Walking into your house should feel like entering a haven where you can relax and be calm. But it can be hard to feel at peace if your most precious items are messy or it's hard to reach the cleaning products. That's why organizing and storage-saving hacks have become such a popular trend - tidy surroundings really do lead to a tidy mind! Read on for hacks that'll bring tranquility to your home, all while keeping your decor on point.
Reusing Cans for a Stylish Storage Trick
Salvaging tin cans is one of the most genius storage-saving hacks out there! After cleaning and drying out the cans, they can be painted or covered in almost any material to repurpose them. Salvaged tin cans are awesome for art supplies, paint brushes, kitchen utensils, and desk supplies, among hundreds of other uses. Our favorite hack is drilling holes in the bottom of clean tin cans and using them as planters - cheap and cheery.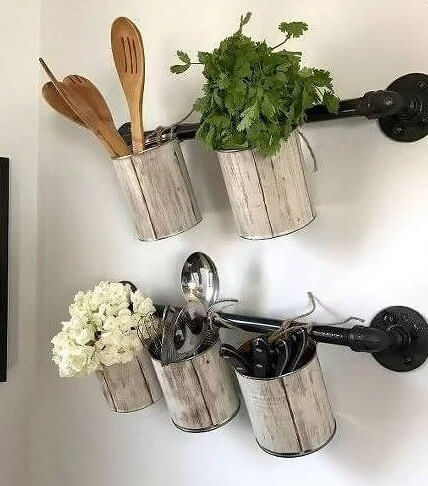 As in the photo here, repurposed cans can also be an amazing storage-saving idea by hanging them up. They weigh next to nothing, and can often make a really gorgeous, eye-catching addition to an empty wall. 
Get More Storage Out of Your Closet With Hanging Clips
Some wardrobes are enormous and made of old oak and sit in spare rooms in old houses, with plenty of room for bulky fur coats and sometimes, children can reach far off lands by walking through them. And then there are other wardrobes, the less fictional kind, too tiny to hold much more than a few dresses - once coats are added, forget about it. When your wardrobe seems stuffed beyond capacity, it's time for a brilliant hack - extra hanging hooks.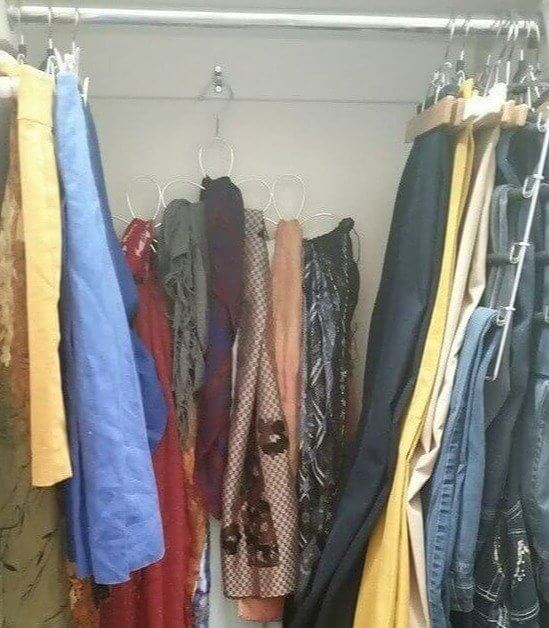 By adding a line of tight, sturdy wire across the back of the cupboard or wardrobe, extra items such as scarves, tops and purses can hang side by side with your clothes. Or, you can simply nail a hook into the back of the closet for more hanging room. 
Keep Those Tablets and Laptops Organized
Oh, the perils of modern life! Living in a larger household often means everyone is looking to charge their devices - be it tablets, phones, or smartwatches - at the same time. To avoid short-circuiting your home and the messy, irritating look of wires well, everywhere, then it might be best to invest in a multi-charger device. The compact design of these chargers means they don't take up much precious surface space. And as to how to organize all of the electronics themselves?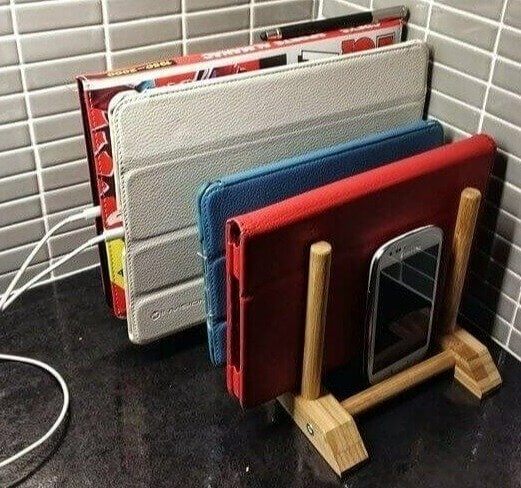 There are plenty of kitchen organizers, magazine racks, and desk accessories that you can turn into a device like the one seen above. Then, you'll be able to keep the family's electronics nice and organized rather than spread all over the home's surfaces.
Install Pegboards Anywhere, From the Kitchen to the Playroom
The renowned chef Julia Child is partly - or possibly wholly - responsible for the popularity of hanging pegboards in the kitchen. Child famously hung her copper pots and pan collection on a huge sheet of pegboard that lined most of the available wall space in her kitchen. Home cooks have taken inspiration from her handy idea ever since - and as technology has changed, they have added more useful accessories that pegboard makes easy to reach for - baskets, oven gloves, baking trays, spice racks, and more.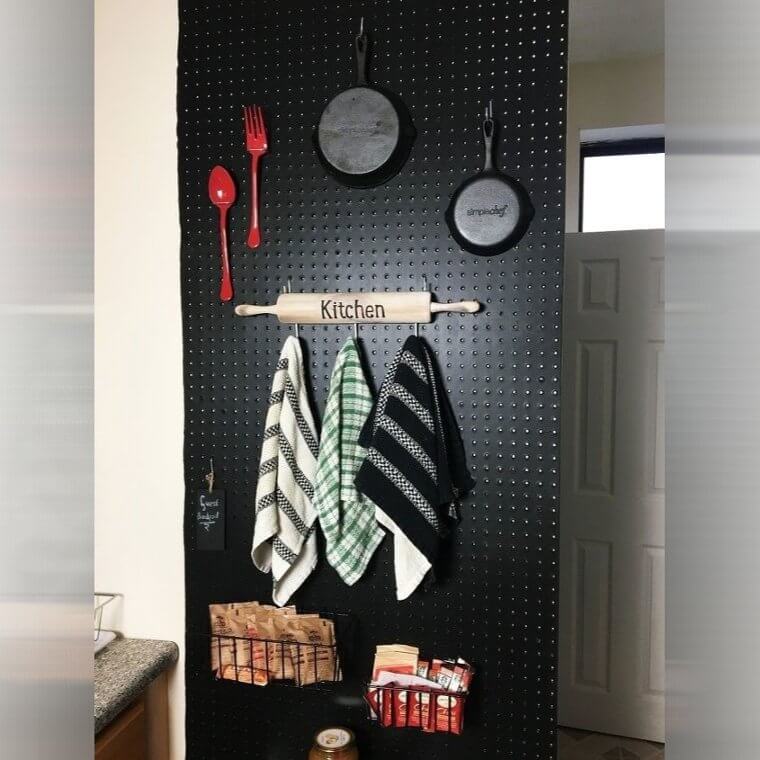 Especially in smaller kitchens and spaces, pegboard proves to be an extremely useful and handy hack when there is a lack of drawer and cupboard space to work with. 
Over-The-Sink Drying Racks Save Counterspace
Smaller kitchen spaces can definitely be challenging when it comes to the amount of kitchen stuff we need and the space we have to store it. One storage-saving hack is placing a drying rack over the sink itself once all of the washing-up is done. Instead of cluttering up even more precious countertop space, the rack simply sits over the empty sink - letting your glasses and plates dry off.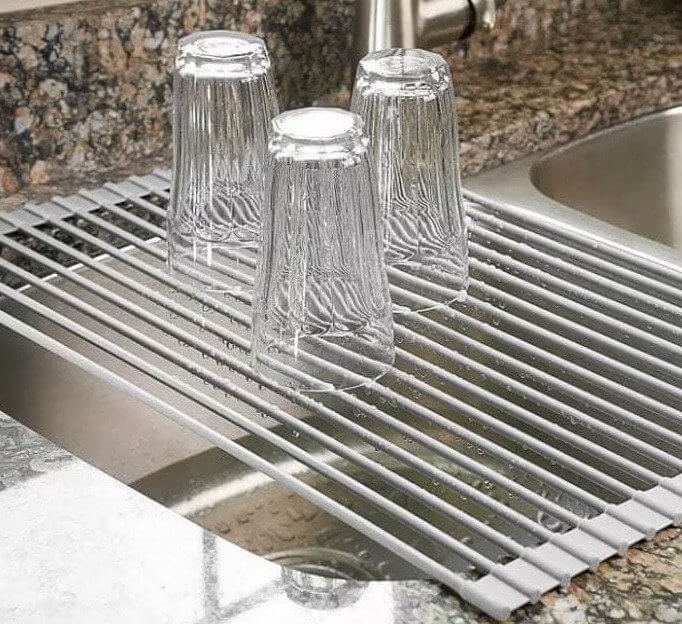 Other space-saving solutions for washing and drying up without a dishwasher include expandable, collapsible, and rollable drying racks as well as over-the-sink racks, with some even two or three stories high for extra storage. 
Repurpose Old Tissue Boxes Into Storage Bins
Once the cold, chilly winter months set in and coughs and colds abound, make a mental note to save all of those cardboard tissue boxes the family has used. They may not look like much when all the tissues are finished, but with some stiff, decorative contact paper and hot glue, that flimsy box becomes a handy storage device for kitchen surfaces, work desks, nicknacks, and kids' rooms.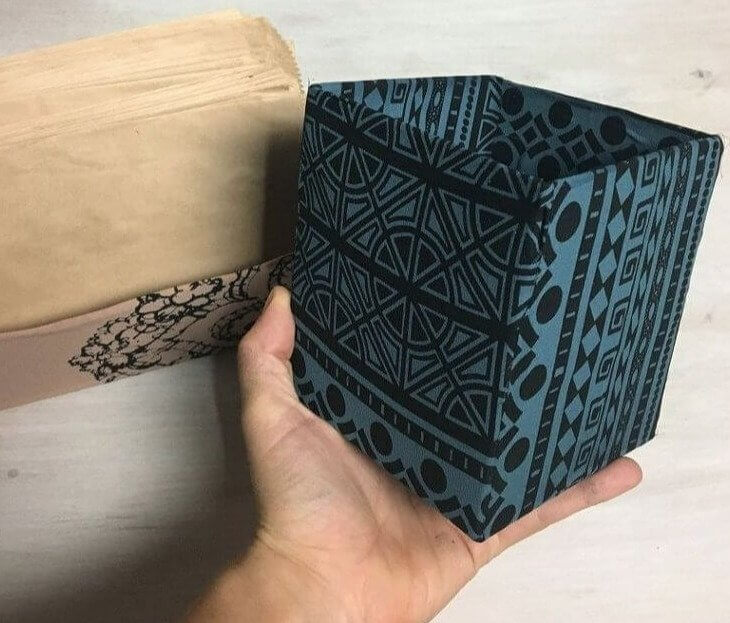 Remember not to keep it in the bathroom, though - it's only cardboard underneath there! 
Lazy Susan's in the Cabinets Are a Game-Changer
The 1970s are back! Just proving their worth once again, Lazy Susan turntables and drawers are back in fashion and are trending in the world of home organization. So how do they save space? Firstly, the rotating storage device groups items together, which is a basic first step when it comes to room organization. Secondly, it means easy-to-reach items and a well-organized food cupboard, fridge, or spice collection.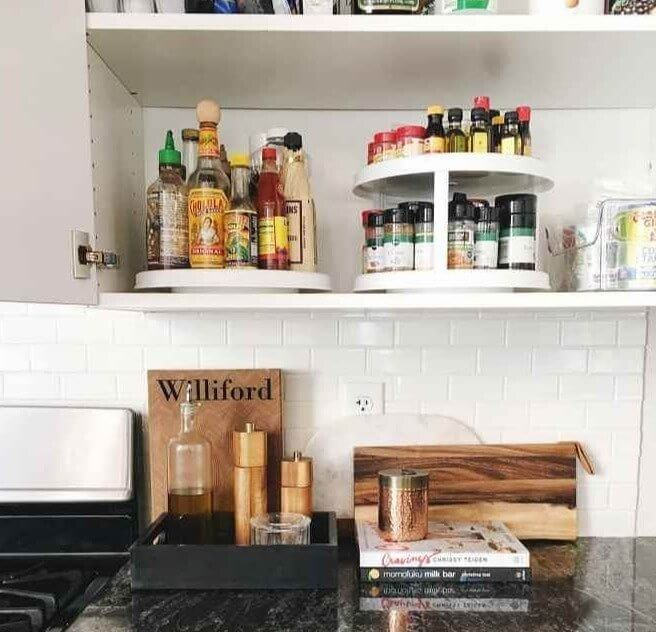 Think beyond the kitchen! Lazy Susans are great in other rooms, too - think cleaning and bathroom products, or arts and crafts supplies, paintbrushes, and beyond. 
Folding Chairs Can Double for Storage When Needed
Folding chairs are not just for guests to park themselves on once a year at a birthday celebration - think again! Folding chairs can be useful for all kinds of storage-saving techniques, but the one demonstrated here is quite unique. First, hang the folding chair to two hooks on the wall, always ensuring the chair is firmly secured - add more hooks if necessary - and no disasters are likely to happen.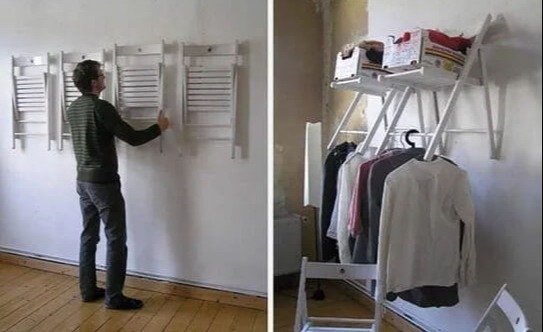 Open the seats of the chairs up to add light boxes, and then use the legs and bottom parts of the chair as hanging space. A genius hack for small spaces, and no costs involved! 
A Touch of Nature and More Storage All in One
This one is for the shopaholics! Can't get enough of vintage fashion, secondhand finds, or the latest trends? No judgment here! Only, how is all that gorgeous stuff being stored if your home is not a Hollywood mansion? Most apartments and homes simply don't have the space for even basic storage space sometimes - and that's when we need to get creative! Forget piles on the floor; bring on this gorgeous, boho chic branch garment rack with simple installation.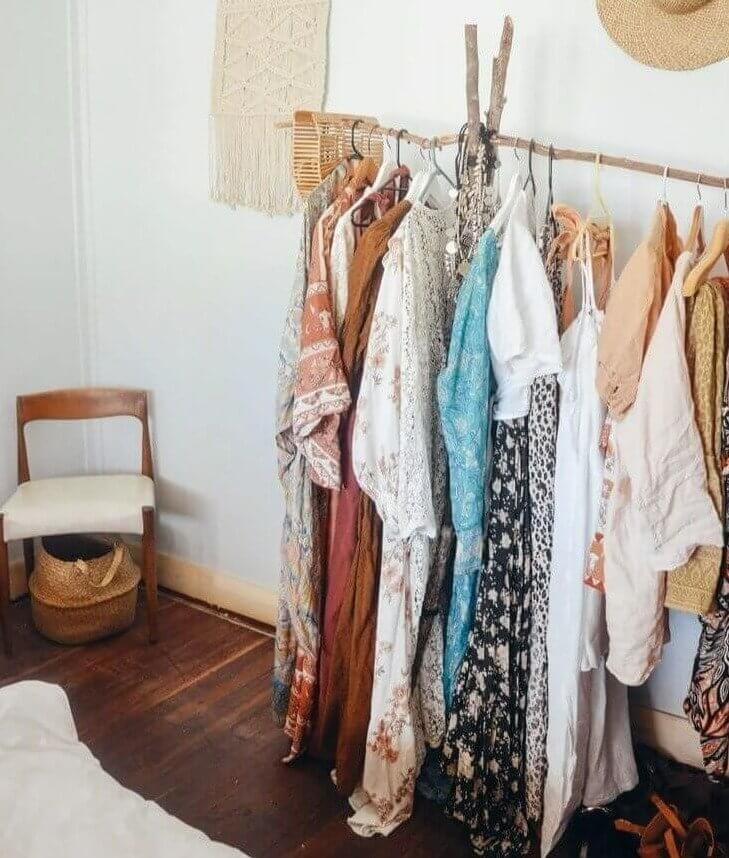 It costs next to nothing to create - a sturdy branch, picture wire or jute string, wire cutters, hooks, and screws - and for extra effect, the branch could be painted white or a color that matches with the rest of the room. 
Underbed Storage Made Easy
One of the more obvious, well-known storage saving hacks is the modern invention of soft storage units. Whether baskets or boxes, they are made from soft material - unlike typical storage boxes made from hard materials, such as plastic or wood - and are wonderful for storing clothes between seasons, packing away extra linens, towels, or children's clothes they have yet to grow into.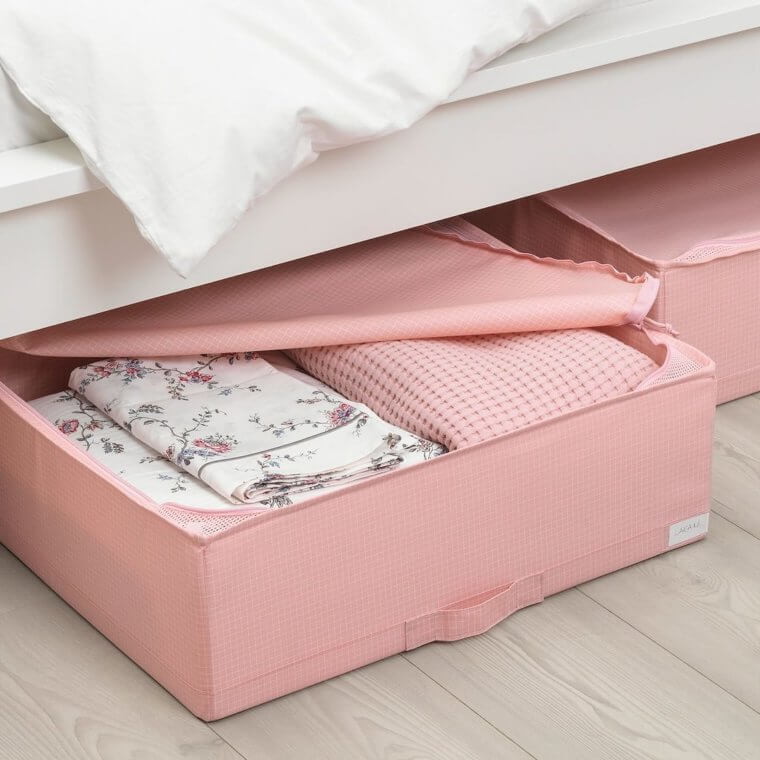 The bonus of soft storage is its flexibility, meaning it can be stored in a lot of useful places such as under the bed! 
Hang Baskets Are a Stylish Alternative to Regular Shelves
There are so many uses for baskets; the list could go on forever. But one hack we highly recommend is hanging baskets - the right hanging basket could be just what your kitchen or bathroom is missing. There are hanging baskets for fruits and vegetables, and for smaller kitchen or bathroom spaces, there are hanging baskets that can be attached to rods over countertops. The various options are great for saving on counter space.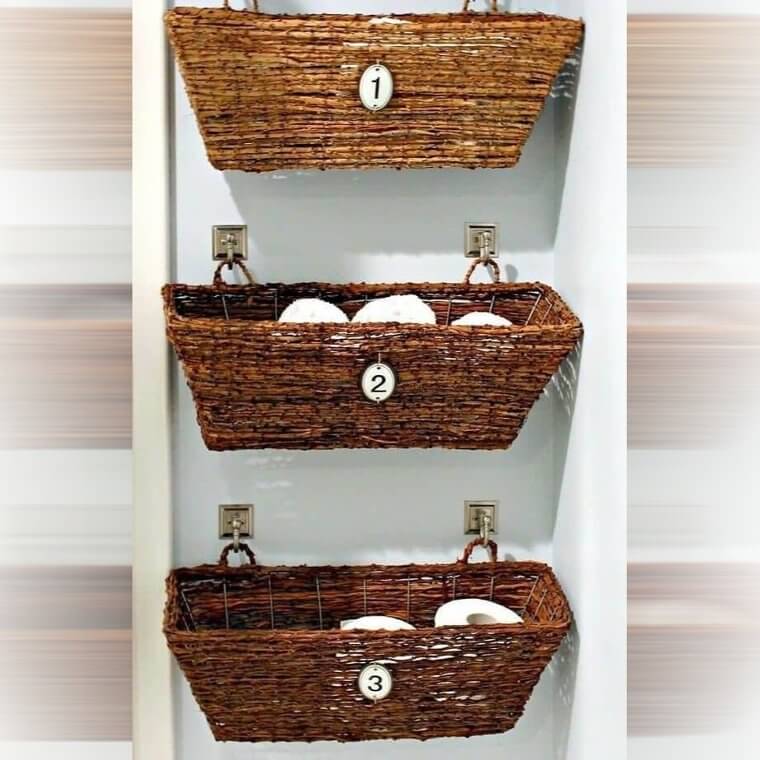 Keeping bathroom and kitchen counter space free of clutter, all that's needed for this hack are hooks and baskets that can be strung up. 
A Hammock for the Stuffed Animals
Who knew just how many stuffed animals a child can rack up during their early years? People frequently gift a soft stuffed animal to a newborn, then come the holiday gifts, birthday gifts, and another one from Grandma, just for fun! When it comes to storing them, they can be frustrating as they don't fit well into baskets or boxes. We have a better hack for those stuffies - a hammock!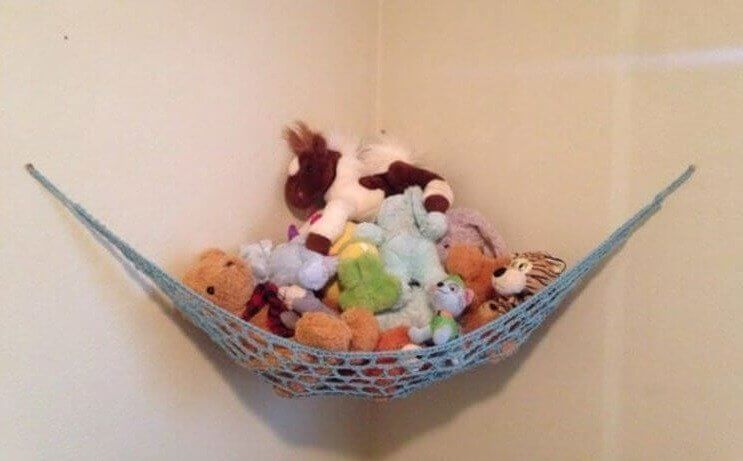 Placed high enough to reach that it's easily accessible, all that's required is some netting and two hooks. A useful, easy storage method for freeing up floor and bed space! 
Reach Those Pans Easily With This Trendy Storage Hack
Hanging saucepan and frying pan racks used to be something we only saw in restaurants - the big, metal, industrial versions, that is. Until space and storage hacks began trending as part of a growing interest in home organization, and people realized that hanging could save on a huge amount of cupboard and counter space, as well as keep all of their pans organized. Always ensure that the rack is within arm's reach or reachable with a stool!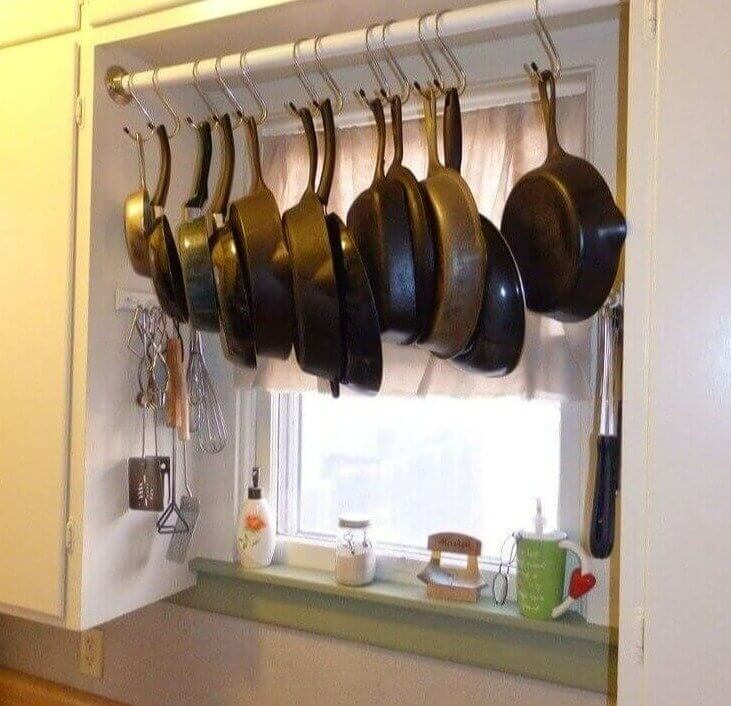 Most hanging racks are on chains and attached to the ceiling, but for a simple alternative to that expensive method, try installing a sturdy rod or pole in the part of the kitchen that makes the most sense. Metal hooks fit into the rod, and each handle gets put on a hook. Et voila! 
Floating Shelves Keep the Room Airy
When talking about ways to make our homes feel twice the size, one of the key ideas is keeping it simple. For those with a more minimalist sensibility, this is exactly when clutter-free, mess-free design ideas come into play. One of the hacks that minimalist interior designs really love to employ is a floating shelf. The idea behind floating shelves is to provide necessary storage space without having to bring in big, bulky cupboards and cabinets.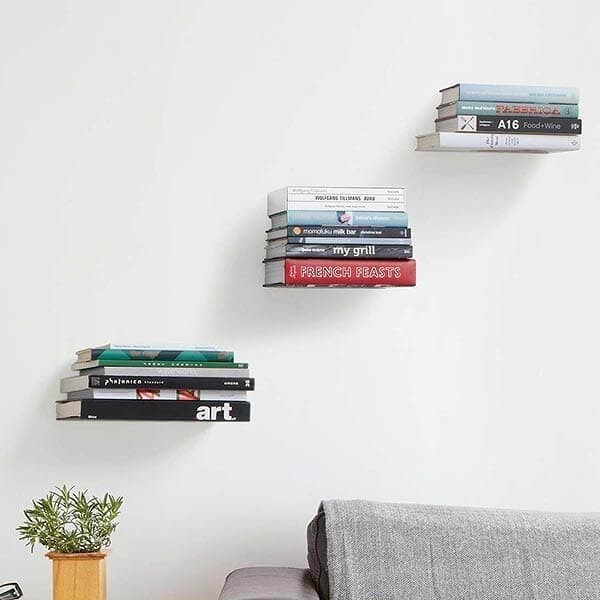 Floating shelves are so versatile! They can be used for books, plants, and household goods and are much sturdier than people think. 
Store Jewelry and Shoes on Your Closet Door
The ultimate space and storage-saving hack: using the backs of doors! When moving into a new home, room, or space, we look around and try to design and plan where all of our stuff is going to go. The best hack we can recommend is using all the spaces that don't immediately spring to mind, like the backs of doors. We've seen racks for saucepan lids, spice racks, baskets for cleaning products, and wrapping paper supplies - all on the back of a closet door!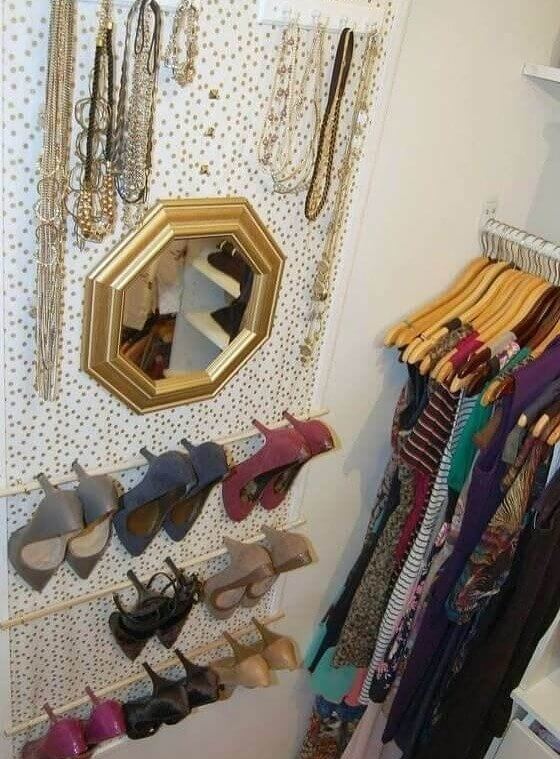 To save on bedroom storage, utilize the back of a closet door to hang a mirror, a shoe rack, necklaces, earrings, and bracelets for easy access and fantastic organization. 
Hang a Wine Rack to Make More Room in the Cabinets
Bit of a wine lover but no space for all those wine glasses in your cabinets? We hear you. Glasses can take up a huge amount of space in precious cabinet real estate. One of our favorite storage and space-saving hacks is the DIY wine rack. Easily put together in a day from pieces of wood or wooden pallets, there are hundreds of tutorials and examples out there to inspire.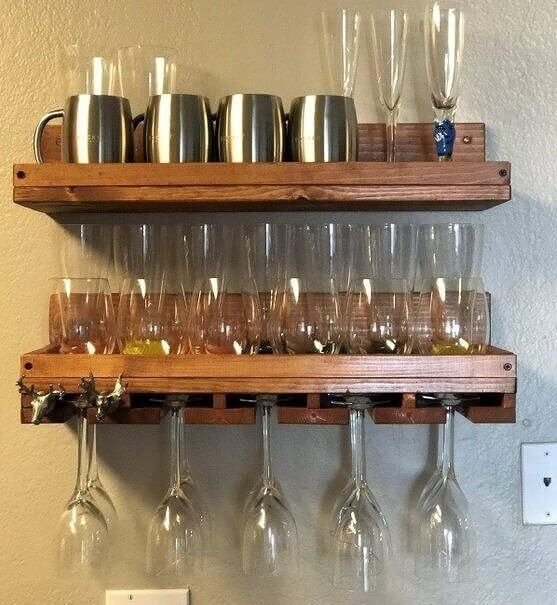 The best ones we've seen hold both wine bottles and glasses, with wider shelves for differently shaped glasses such as whiskey tumblers. 
Roll Your Towels Into Baskets for Easy Reach
One of the loveliest things about decluttering is how easy to find everything then becomes! Guests come to stay unexpectedly, but it's ok - the linen closet is beautifully organized, and we know exactly where to find sheets and towels. Professional advice when it comes to sheets and towels is that there's no need for more than two sets of sheets per bed in the home and two sets of towels per person.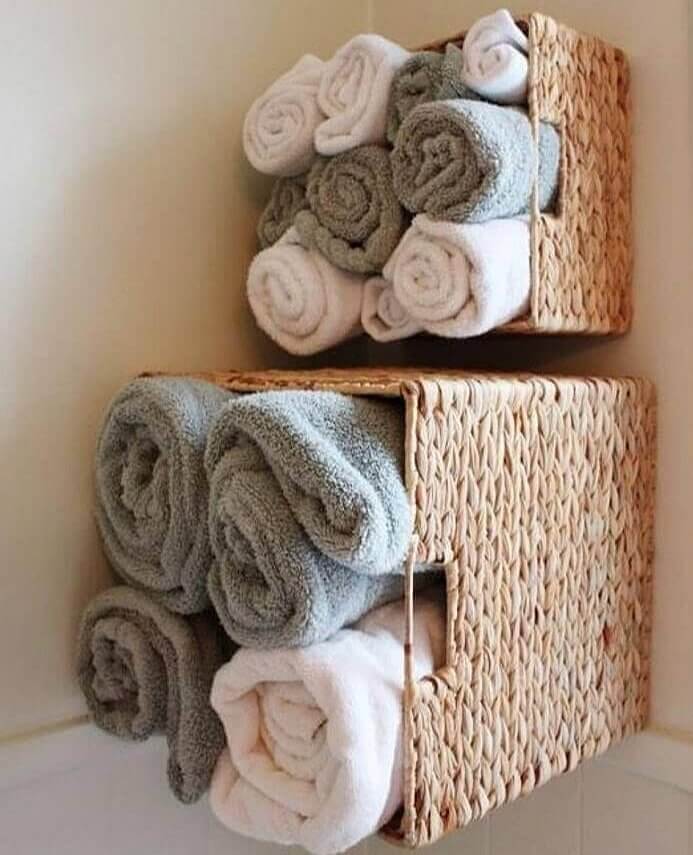 Storage baskets and boxes are key in keeping towels neat. Rolling them into a box or basket keeps things organized for longer than the usual stacking method.
Shelves Along the the Top of the Walls
Sometimes the simplest idea is staring us right in the face - and sometimes, it's just a few centimeters from the ceiling. Adding shelving to some rooms of a home, especially kids' rooms and lounge space, adds both a special element of design and, more importantly, extra storage space! Installing shelves along the perimeter of a room gives you a ton of extra storage space - be it for books, games, or toys.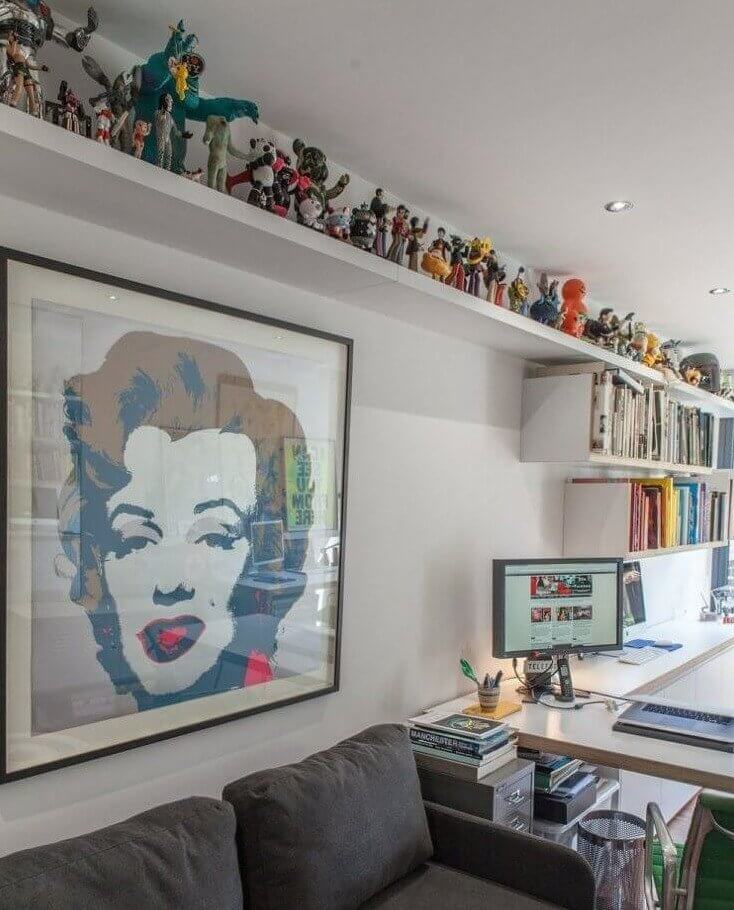 We have seen ceiling shelves used for all kinds of collections, such as souvenirs from travel abroad, framed artwork, porcelain and ceramic breakables, and cerulean or green glass bottles. 
Save Space and Keep Your Boots Looking Good as New
Speaking of those cold winter months, an item of clothing we sometimes forget to pack up properly between seasons is boots. Women's knee-high boots, in particular, are prone to become creased, folded, and sometimes ruined when not stored correctly. This super smart hack involves cheap PVC piping for inserting into each boot, which are then stuck onto a simple foam base. Both materials can be found cheaply at the hardware store and can save an expensive pair of boots from ruin.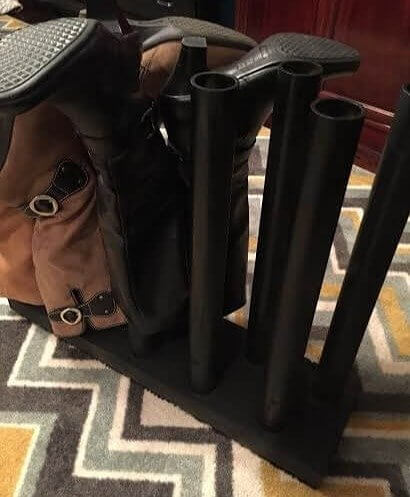 Before storing them away for summer, clean shoes and boots thoroughly, stuff the toes with acid-free tissue paper, and choose the shoe organizer that works best for the space and will keep out dust. 
Get the Chip Bags Out of the Way
Kids have a biological tendency to ask incessantly for a lot of snacks. Snacks, snacks, and more snacks, all day long. The most fascinating part about this phenomenon is that children will ask for snacks and never finish them! Something far more interesting has caught their attention, and the open snack packet is left on the couch. In order to prevent chips and other snacks from going moldy and taking over the cabinets, use this hack! 
Use tiny hangers with clips to seal an open packet and hang it up so they don't get lost inside a cupboard and forgotten about! No more half-eaten packets of snacks. This one is for the parents - you're welcome. 
Get a Headboard That Doubles for Storage
The origins of headboards stretch as far back as ancient Greece and Egypt! While we have moved on from four poster beds and canopies in private homes, today, the headboard is a design element in and of itself, and one of the best hacks we know for storage and space-saving is to utilize a headboard and the 'dead' space around it. Some headboards today even come with ready-made, hidden or invisible drawers and shelves.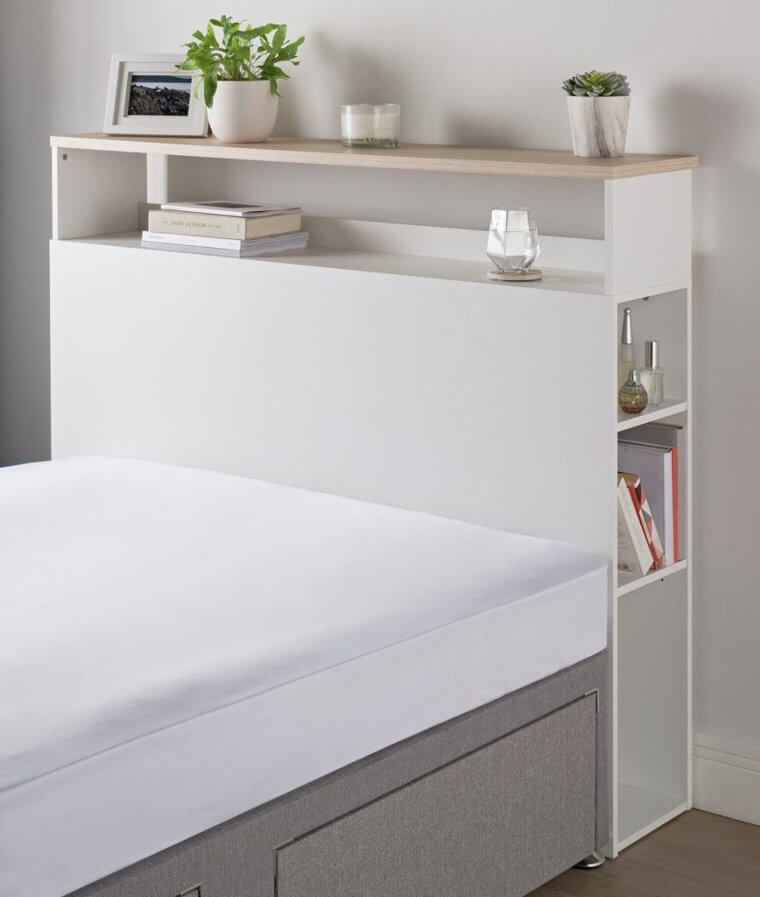 When looking to add storage space in a bedroom around a headboard, think what fits best in the room - whether it is simple open shelves, cabinet doors, or a large unit that surrounds the headboard, sometimes even just a simple shelf as a place to pop books and a plant on can add a huge amount to a simple room. 
Shoe Racks: The Cheaper (and Sometimes Cuter) Alternative to Shelves
Repurposing is both environmentally considerate and smart and may also be the storage solution you didn't know you needed! Given the regular height of a shoe rack, it has endless possibilities! It could be converted into toy storage in a child's bedroom or playroom for lining up cuddly toys or a car collection. By adding plastic baskets on the shelves of the shoe rack, it becomes a play kitchen!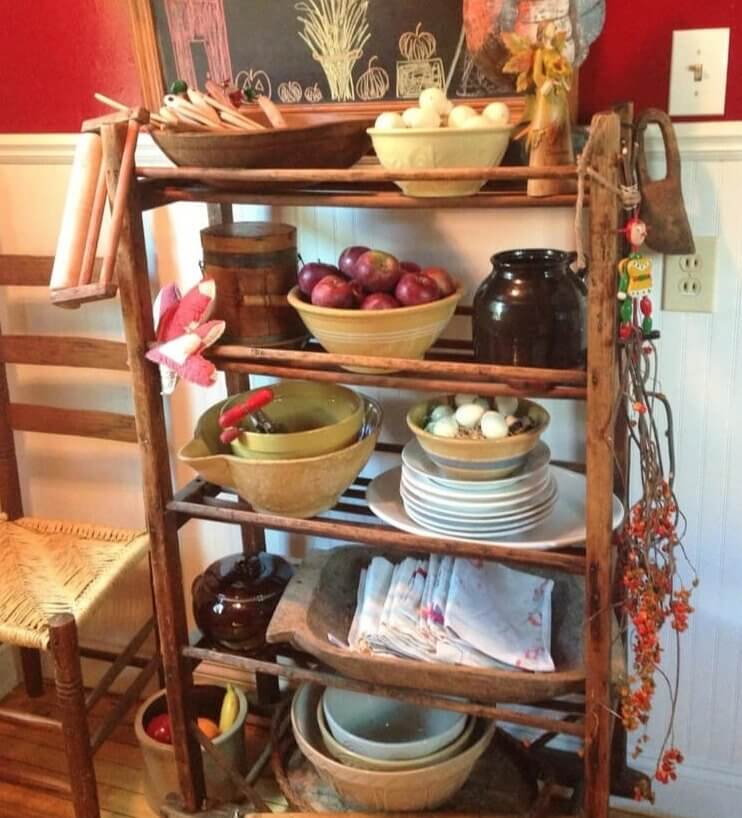 Depending on what material the shoe rack is made from, it could also make excellent bathroom storage, a crafts organizer, or it could be used as a beautiful, rustic way to store kitchen equipment and serving dishes in a dining room. 
Keep That Under-Sink Storage Organized
Is there any more embarrassing, messy place in a home than under the kitchen sink? Most people stuff as many things as they can possibly hide underneath there - a trash can, bags for the trash can, cleaning supplies and textiles, bug spray, spare bottles of dish soap, and more. The problem with stuffing it with things? Never being able to find anything. Less mess and more organization are key results of this hack.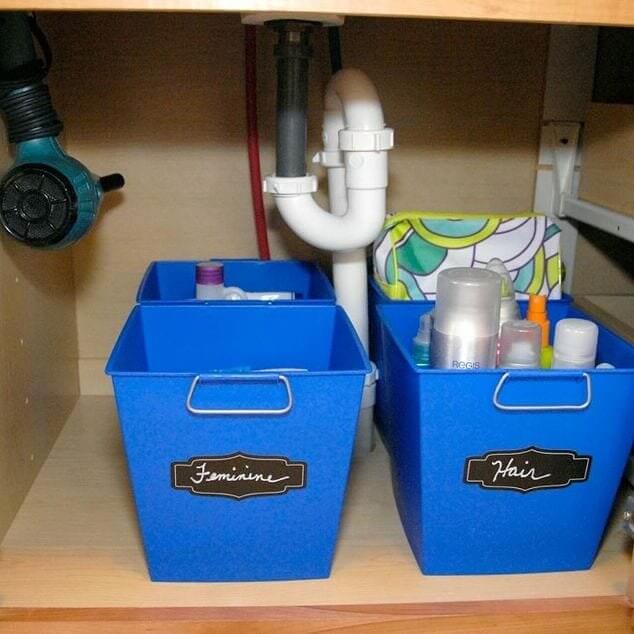 Transparent boxes, plastic baskets, rolling caddies, and sliding-tiered organizers - any and all of these would make for great organizers and storage-saving solutions without spending too much money. 
No Shelves in the Shower? Get a Curtain With Pockets
This one is for the students and the renters! Landlords can often be stubborn when it comes to drilling or permanent changes made to their property, but we can also understand them. For renters, though, this poses a problem - particularly when it comes to things that are considered a convenience, such as shelves or any kind of counter in the bathroom. That's when the shower curtain with pockets comes in!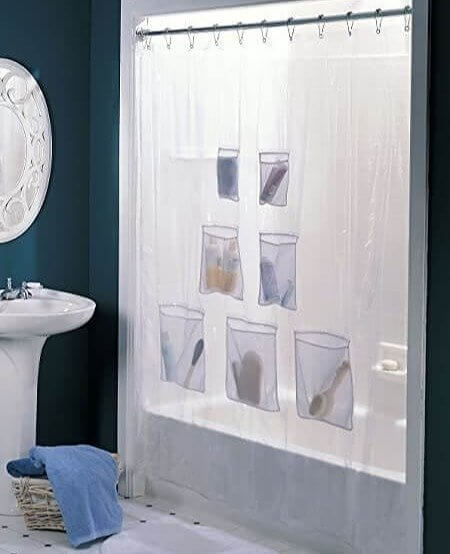 Adding an element of storage and space-saving to the bathroom, the shower curtain's pockets can contain lighter items such as a hairbrush, loofah, shower cap, toothbrush & toothpaste, and more. This is easily a DIY project, just sew some pockets on the outside of a shower curtain, and you're done! 
Space-Saving Hangers Are the Hero We All Need
On the topic of saving wardrobe space, another handy hack is space-saving hangers! For tops and items that can be hung together and do not need to be folded, round space-saving hangers are here to save the day. Just take a bunch of tank tops or bras, and thread them onto the circular hanger. It's a brilliant way to save on drawer space when there is not a lot of room to play with.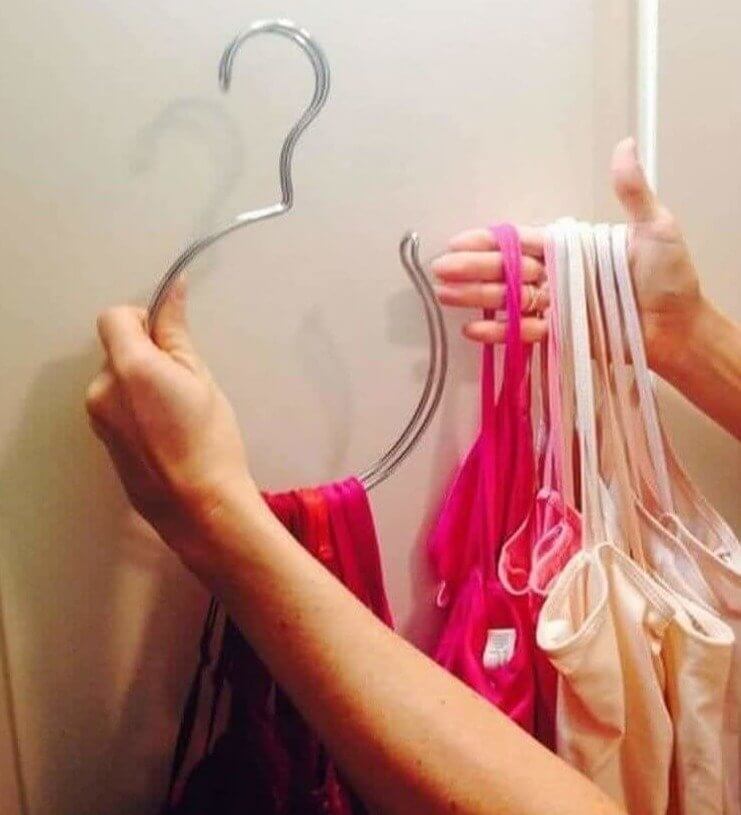 Especially if a living situation involves shared spaces or dorms, these hangers are a gift from above - they can be hung inside a closet, on the outside or inside of a door, or even just on a nail or hook on a wall. 
Hanging Your Jewelry Keeps It Organized and Accessible
Nothing is more frustrating than planning the perfect outfit for a special event, including accessories, only to have no idea where those accessories and jewelry are when you go look for them. Bracelets and necklaces are easily tangled if kept in boxes; that's why we love this simple wooden bar with tiny hooks hack - each necklace and pair of dangly earrings hangs separately and can be easily removed and replaced. Not only that, but it's a clean and simple design that doesn't take up any counter space.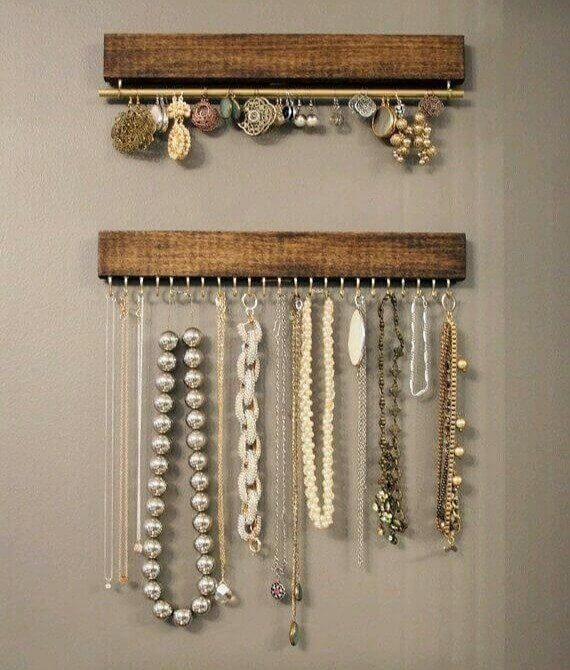 It can be hard to find the best way to store jewelry! Earrings should be kept in pairs in small compartments - we find a plastic toolbox the best storage solution for this. 
Hang Your Shower Essentials Where You Can Reach
Bathrooms in the average apartment and home tend to be small, as we are theoretically not spending a huge amount of time in them. That's why hotel bathrooms tend to be so much more spacious, with more time to relax! Given our small bathroom spaces, storage and surfaces are the things most lacking in a home or family bathroom, so we really like this wall storage hack: add hanging baskets and shelves for all those necessary bath and shower products.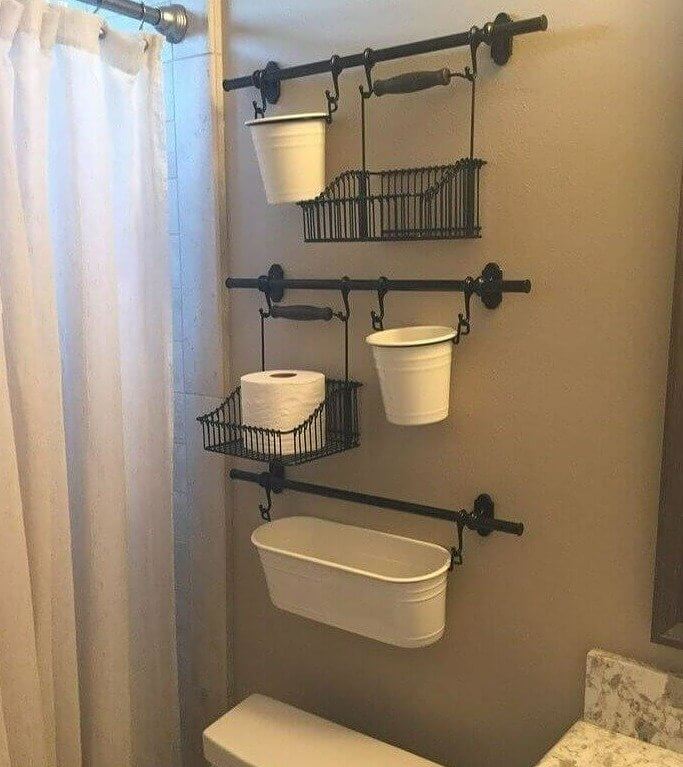 Wall storage, like in the photo featured, provides space for that spare toilet paper roll, plus bottles of shampoo, conditioner, and shower gel, or the kids' bath toys, bath bombs, bath crayons, and other accessories. 
Keep It Simple With Mini Plastic Drawers
It might not be a mind-blowingly creative idea, but this really is one of the more useful and most simplistic storage solutions out there: mini plastic drawers. From annoying odds and ends we all have lying around, to emergency supplies such as batteries or candles, from wires, plugs, and adaptors to makeup, jewelry, or office supplies - tiny plastic drawers are the home hack we all need in our lives!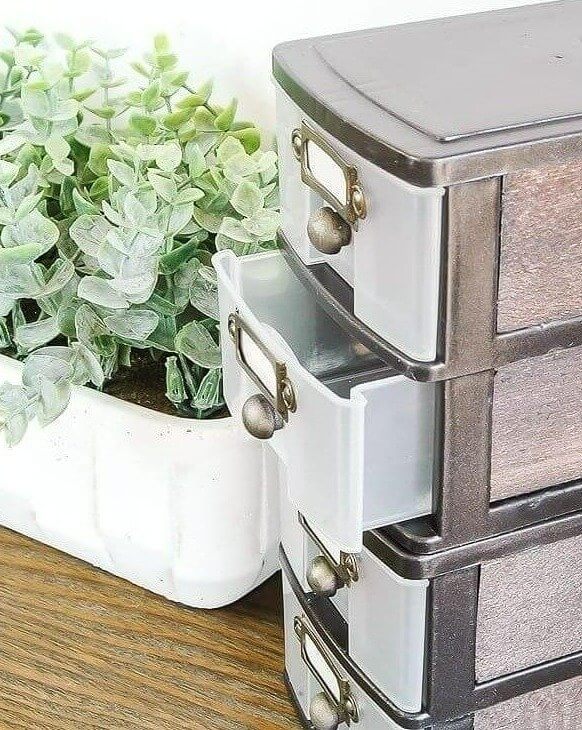 Plastic drawers come in all sizes, can help keep a kids' room tidy, and can easily move with them to a dorm room or a first apartment. 
Make Your Own Scarf Hanger
We absolutely love the creative methods people keep coming up with for scarf storage! Scarfs are one of those accessories that have been around for centuries and will likely never go out of fashion. The ultimate accessory, they can lift an outfit from boring to bright and are especially handy when moving from warmer to colder areas, traveling, or a baby spits up all over you unexpectedly. Always have a scarf handy!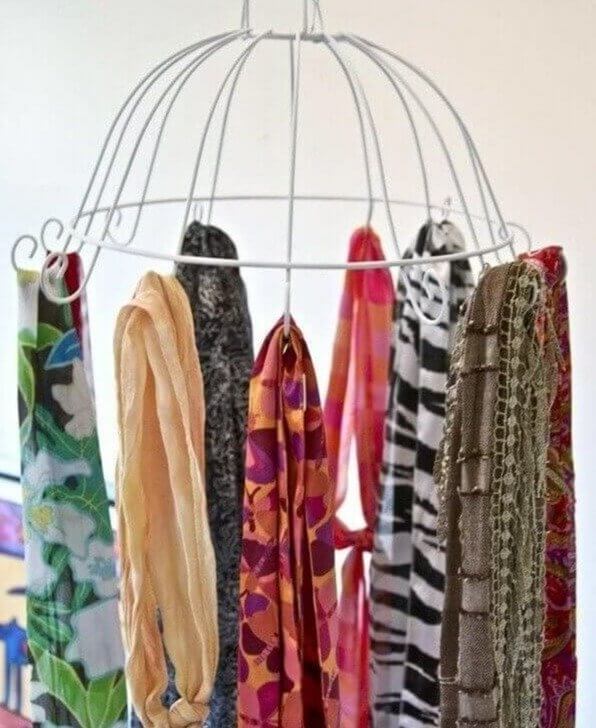 We adore this simple 'birdcage' like storage for scarfs; other ideas include the famous IKEA looped scarf hanger, shower hooks on a hanger, rolled up into a basket, rolled into 'garlic knot' shapes and stored on top of each other - the options are endless.
See-Through Storage Drawers Are Ideal for Storing Makeup
We plan and think and design how to organize so many of the larger areas in our home, from the garage to kids' rooms, but some of the smaller things are overlooked. Makeup is one of those things that can easily be organized and in a clever, aesthetic way that adds to your bathroom or bedroom. A popular method for makeup storage is transparent boxes, so we don't forget what we already own, and it makes it super easy to locate a delicate eyelash comb or a particular shade of bronzer for a night out.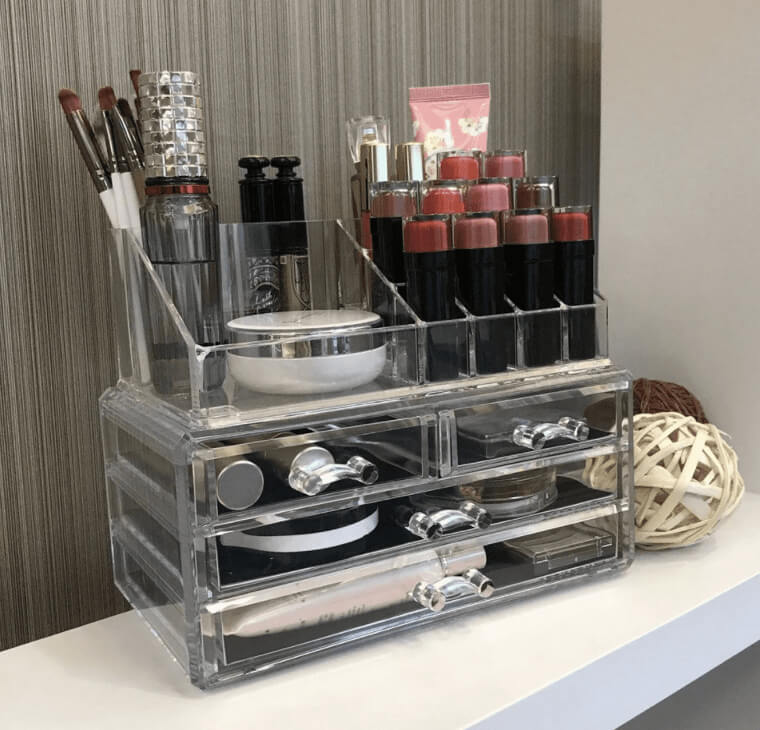 For a cheaper hack than ready-made makeup stands, try glass cookie jars or - our favorite - a tiered cupcake stand. 
A Useful and Stylish Storage Idea
Glass jars are the easiest hack for beautifying a space and can save on so much space and storage! By transferring packets of things that lay around taking up space, we are both saving space and making our surfaces look cooler, cleaner, and well thought-out. Popular items to transfer to glass jars include cotton wool balls, earbuds, detergent, and washing pods. Glass jars and Mason jars are also popular for makeup brushes, toothbrushes, and toothpaste and for neatly containing toiletries.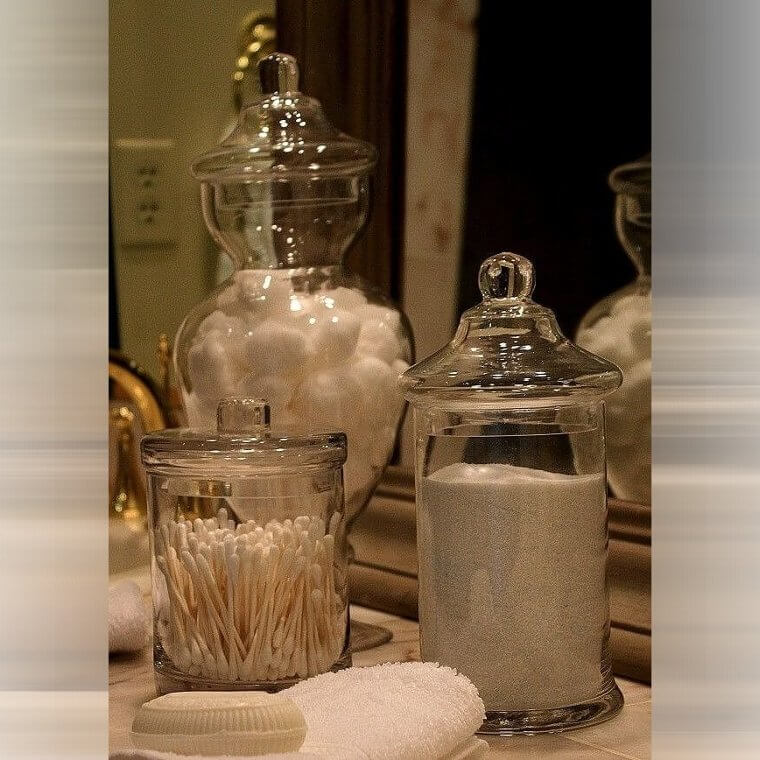 A word of warning when transferring products to jars - not all liquids or beauty products should be kept in transparent glass; always check first! 
Organize and Label Your Spices for Easier Cooking
The smallest of changes, with the biggest effect. Spice drawers are usually messy affairs - who has time for organizing when there are complicated recipes to make involving eight different spices?! One of the best gifts a home cook can give themselves is organizing their spices. Whether it's switching out the spice from the store-bought plastic container to glass and labeling, or labeling the tops of their plastic containers with easily-ready labels, using a Lazy Susan or a spice rack, the hack is in the organizing - and keeping it simple.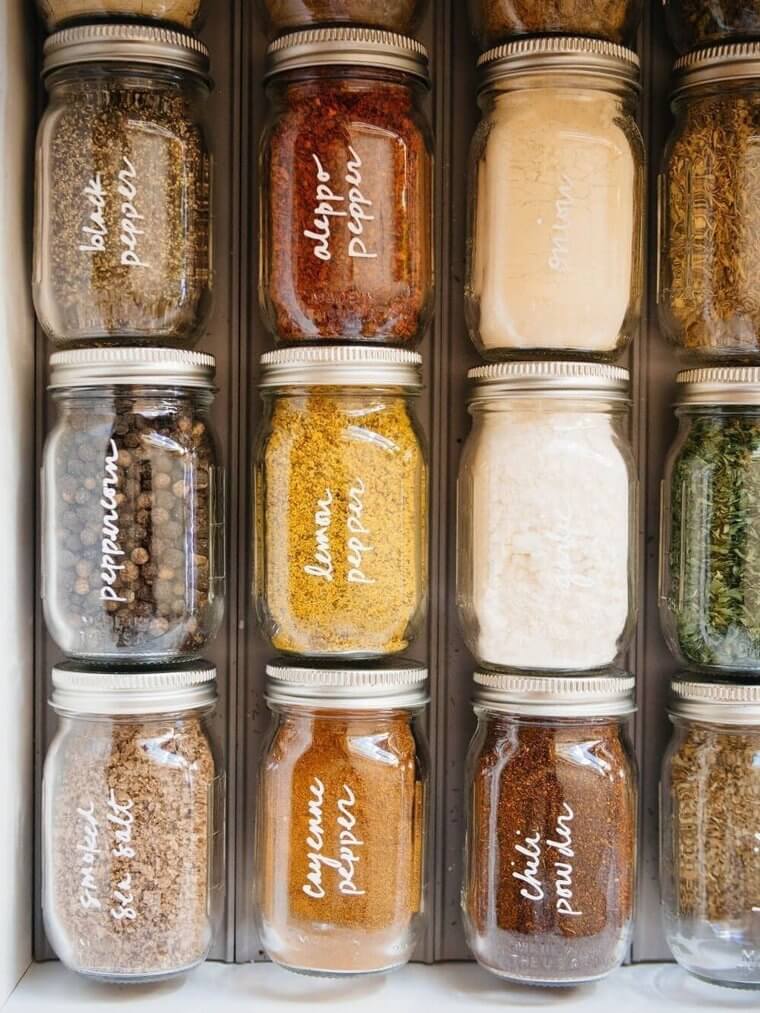 There's no need to invest in a label maker or expensive storage jars - tape and a permanent marker do the trick just fine! 
Make Life Easier With a Rolling Laundry Bin
Whoever is responsible for the household laundry can recognize the genius behind this hack! Housework is simplified when this guy can be rolled around behind the 'laundry collector,' or even better - have one in each bedroom, so the dirty contents can be transferred directly to the machine by each person! Any kind of laundry basket can easily have wheels added, even the ones with compartments that keep white clothes, colors, and delicates separate.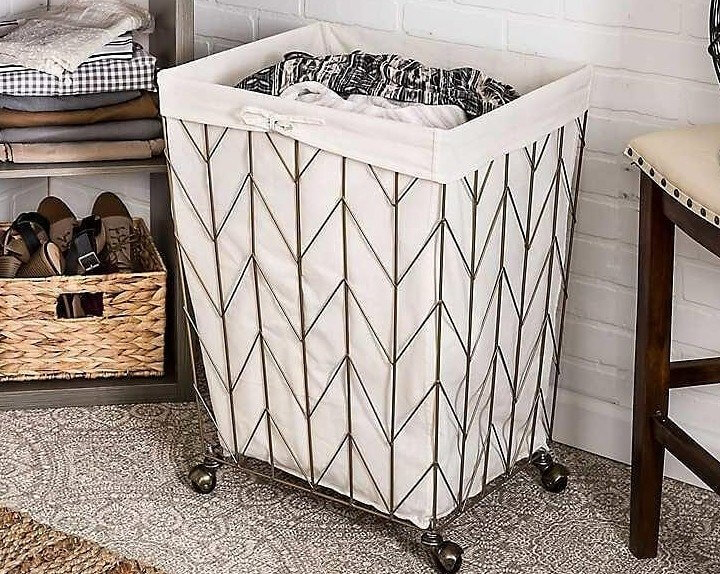 There's a noted difference between laundry baskets, which have holes to release moisture from freshly cleaned and dried clothes, and laundry hampers which holds dirty clothes.
A Portable Spa
Movable carts are all the rage today in modern homes, and our favorite place for this useful accessory is the bathroom. As well as being stocked with regular cleaning supplies, the moveable bathroom trolley can also serve as a portable spa! Fill it with everything necessary for a relaxing spa night at home - candles, face masks, bubble bath, glasses, and wine - and bring it with you to the bath so that your treats are within reach. 
A plant on top of the trolley adds color and warmth to a bathroom, and we love glass jars for bathroom storage. 
Get Extra Storage Without Hammering a Single Nail
This hack feels a little space-age but could certainly accomplish that decluttered feeling in a home! These gorgeous, pastel-colored silicone storage units are wall mounted - held up by suction cups! These storage racks come in all shapes and sizes, with some small for toothbrushes only and some much larger for all bathroom supplies and products. Great for makeup and hairbrush storage on the side of a cupboard or unit, they take up little to no space and are aesthetically very pleasing.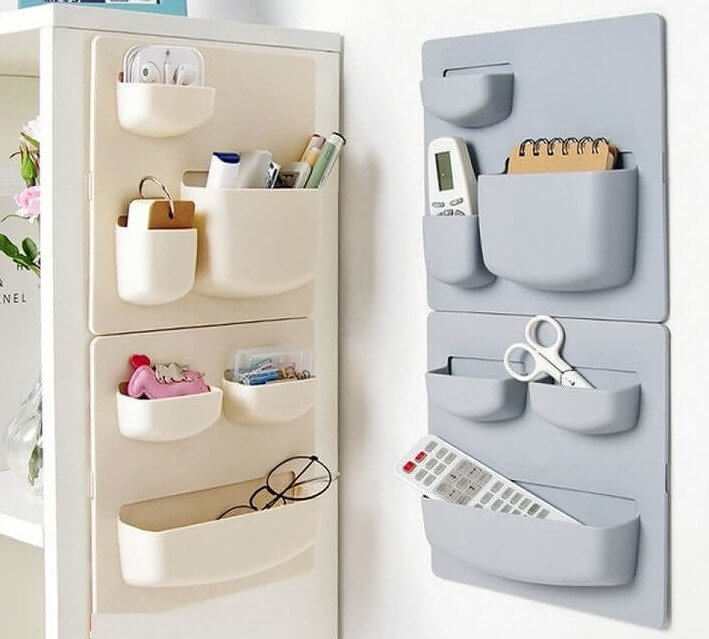 Labeled by professionals as 'modular silicone wall clings,' we wonder if this might be the future for renters and students who cannot make permanent changes to a home but are still in need of extra storage. We hope so; these are so pretty! 
Make Your Own Laundry Basket
A storage-saving hack we can get on board with is a larger laundry basket, but they can often be among the more expensive items to purchase for a household and not a high priority. Laundry baskets are also not that pretty to look at. But we've got a hack for that: you can turn any ugly and large laundry bin into a gorgeous-looking basket; all you need is a hot glue gun and rope.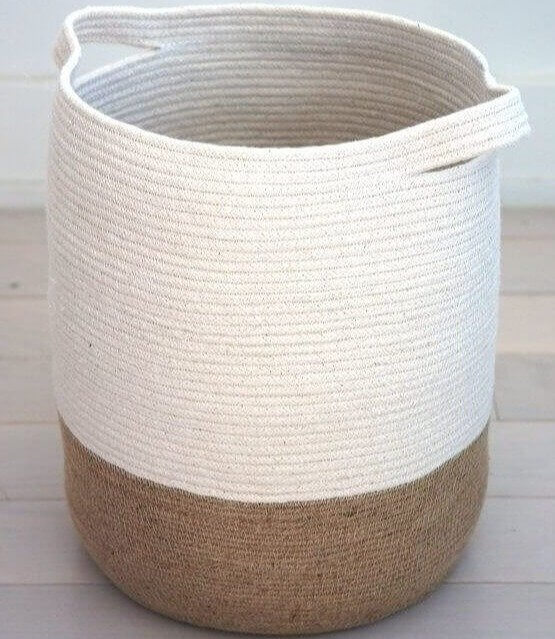 It's one of the more straightforward DIY projects, and look how beautifully they turn out! 
Tidy Fridge, Tiny Mind
Last but not least, the hack that also helps your health - keeping an organized refrigerator! It is well known that bacteria, mold, and other contamination can easily creep up if a fridge is not regularly cleaned or if food is not stored correctly. One of the simplest ways to save on space, plus keep it organized and clean, is by using baskets and boxes. Ideally, transparent ones, but this is not crucial. Then organize the food based on type - dairy, meats, condiments, vegetables, fruits - and which needs to stay coldest!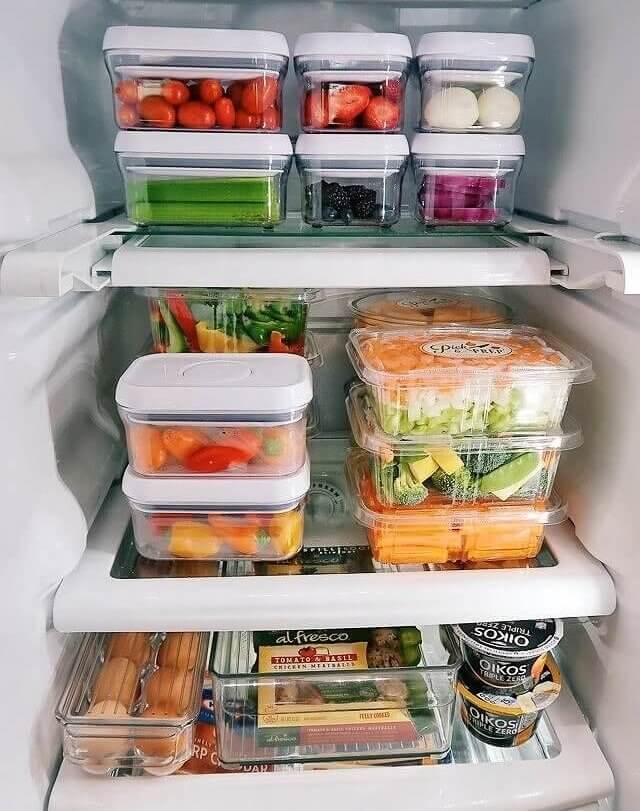 The greatest hack for not letting things go to waste? Always keep leftovers at eye level. This way, they get used up on time and there's less food to throw out.
Here's One We Made Earlier
The desire to make our homes feel twice the size, decluttered and clean, can sometimes turn into an expensive venture. One of the best home hacks is DIY storage boxes - made from diaper boxes, tissue boxes, and cheap plastic storage boxes from the dollar store. To turn them into gorgeous home storage, all that is needed are some simple materials such as hot glue or tacky spray, wrapping paper or material of your choosing such as large pillowcases or material laying around, and twine.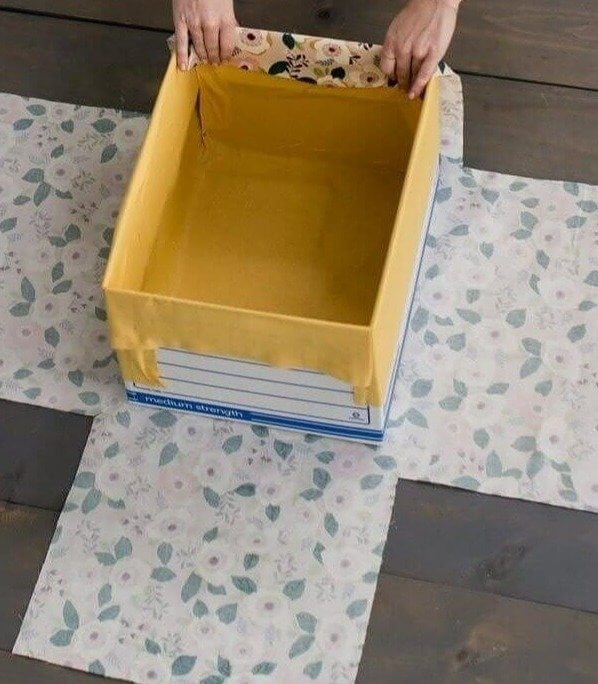 There are a ton of DIY instructions out there for creating your very own unique home storage boxes - cheap, cheerful, and space-saving! 
Make Your Own Underbed Storage
When looking to save space and find extra storage in a bedroom, the space under a bed becomes extra useful. Some beds come with ready-made, pull-out drawers for blankets and linen storage. But if that is lacking, simply measure the space under the bed and then use boxes or containers for storage. Drawers and containers under the bed should be organized, free of dust and creepy crawlies, and well labeled!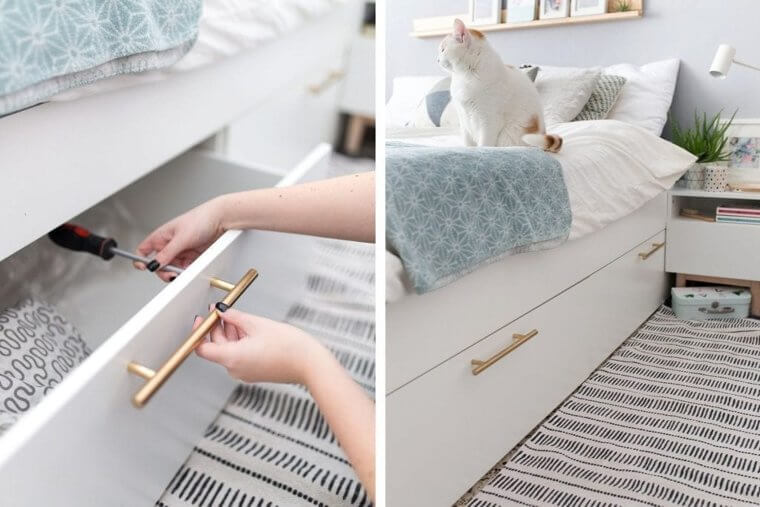 Decluttering a bedroom is recommended by many health professionals - a peaceful, clean and calm environment is crucial for getting a good night's sleep!
Pegboards Are Good for Everywhere, From the Kitchen to the Garage
The pegboard has proven itself to be an incredible storage and space-saving material in the kitchen, and the other place it is often found making itself useful these days is the garage! Instead of packing away everyday tools and materials away after use, or storing them in bulky toolboxes which take up precious shelf or floor space, consider investing in a pegboard. Durable garage pegboards are sturdy and built for holding hammers, saws, wrenches, screwdrivers, painting materials, even drills, and other machinery.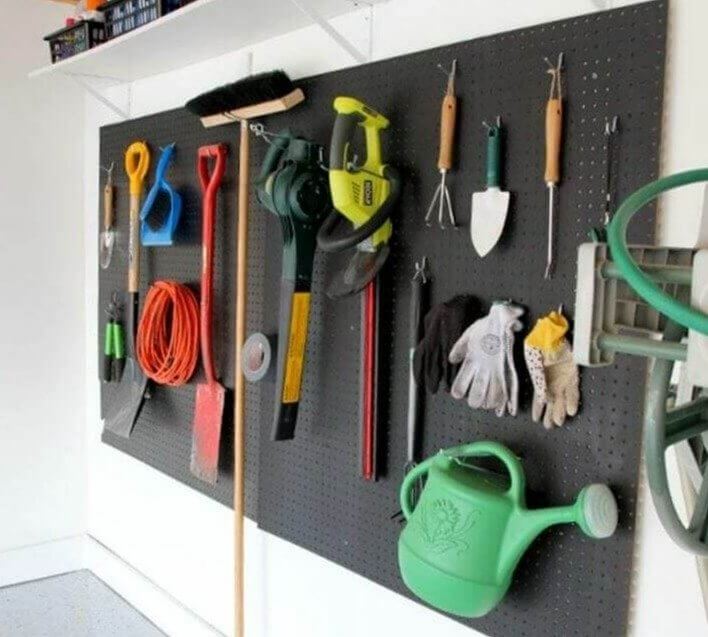 Another great use of a sheet of pegboard inside the garage is for organized gardening equipment display and storage. As pictured here, anything from brooms to watering cans and spades can be displayed. This gets all of those items off of the floor and out of the way while keeping them neat, orderly, and easily accessed. Our favorite kind of hack!