It can be hard to say goodbye to a favorite tee or an old shirt you've had forever. Luckily, you don't have to part ways: you can keep your beloved memories, save shopping money, and stay eco-friendly, all while still adding new pieces to your wardrobe. That sounds like a win-win-win-win, doesn't it? That's because it is. Whether you're looking to transform an old closet staple or upgrade something you bought at the thrift store, you'll want to check out these upcycling tips and tricks.
Make Some Cuts to Create a Laced-Up Shoulder
Want something really unique? This lace-up shoulder tee is sure to turn a couple of heads. All you need are some eyelets, lace, and scissors. Make your cuts, attach the eyelets, and run your lace through, and you have a great new blouse for a night out. And this laced-shoulder aesthetic goes with any old t-shirt lying in your closet, whether it's a graphic tee or a plain shirt.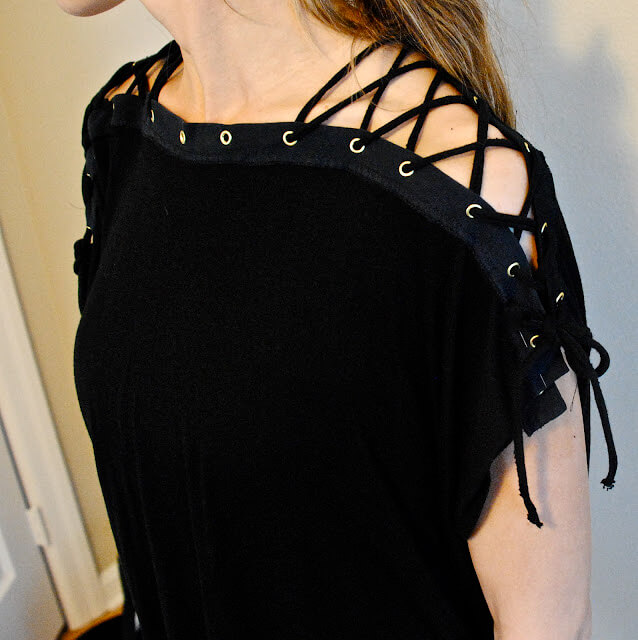 If you're feeling really experimental, you can switch things up with different colored laces or add a couple of knots at the end. Feel free to get as creative as you can with this idea.
Turn Your Favorite Shirt Into Your Favorite Tote Bag
We absolutely love this idea for old shirts, and while it might look daunting at first, it's fairly easy to pull off. It's also really eco-friendly since you can turn just about any old shirt into a tote bag. All you need to do is sew or tie together the bottom edges of your shirt, then trim any extra fabric around the seams to give it a more professional look.
Then, you can cut off the sleeves and cut more depending on how long you want the handles of your tote to be. The best part about this clothing upcycle tip is that you can do it with just about any type of shirt.
Turn a Plain Tee Into a Flirty, Off-The-Shoulder Top
Recycling an old t-shirt into an off-the-shoulder blouse makes for a great DIY project and saves on waste. Take your pick of a patterned shirt or solid-colored tee, and you've got a great shirt that goes with just about anything. All you need is some elastic bands and scissors. Make your cuts, sew a place for your band, and there you have it. That's literally all you need to do.
Just make sure to use a shirt that's not too baggy so that you don't have too many ruffles after you sew your band in, and you're good to go.
Make a Crop Top From an Oversized T-Shirt
Do you or someone you know have an old, oversized t-shirt lying around? Or an oversized button-down? Then consider turning it into a boxy crop top. These are great and super easy to make. All you need to do is cut from the bottom of the shirt, and you have a brand-new crop top. Of course, you'll want to make sure that you cut off enough to get that boxy look we see below.
If you're feeling particularly brave, consider making curved cuts along the bottom or just using a printed t-shirt. Both are great ways to add a little something extra to your crop top.
Add Lace to Glam up an Old Tee
Lace might be out when it comes to home decor, but it can still be combined with clothing for a dreamy look that's great for a night out or a fun lunch. Just find a pattern of lace that you like and cut off a strand long enough to go all the way around the top portion of your shirt. Next, attach it to your shirt by sewing it on or using an iron. But lace at the top isn't the only option.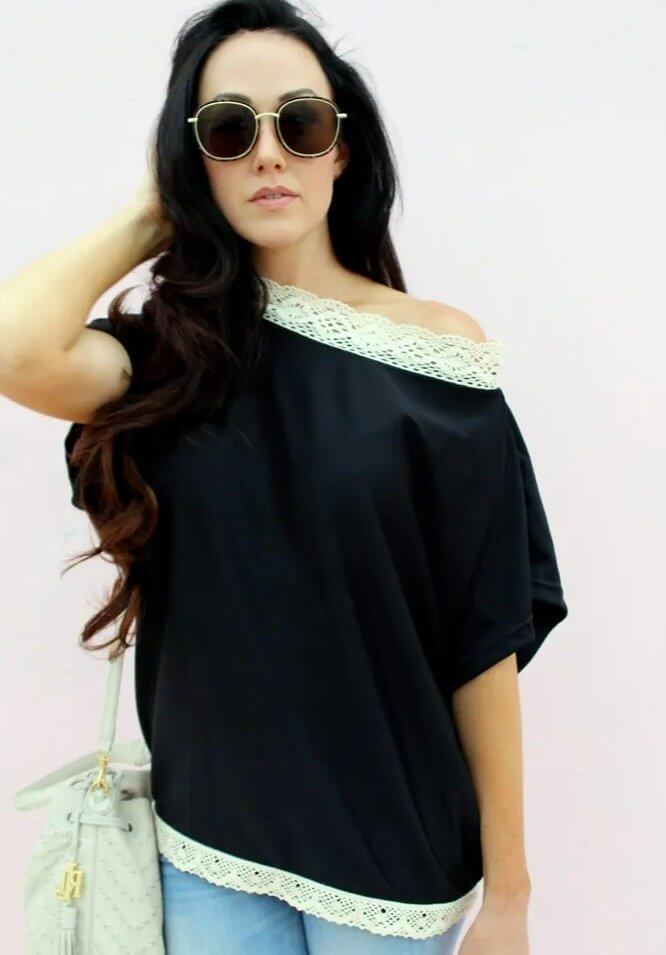 Lace can also be used on other parts of your shirt for a more elegant look. You could attach it to your sleeves, the bottom of your shirt, or even the sides.
This Adjustable Tank Top Is Perfect for Warmer Days
If you have a really old t-shirt that's been sitting in the closet forever, then why not turn it into a cute tank top? It doesn't require much, just that you make a couple of cuts and do some simple sewing. Cut off your sleeves and the top portion of your shirt. Then sew the extra fabric back on as straps. Oh, and don't forget to add an elastic band.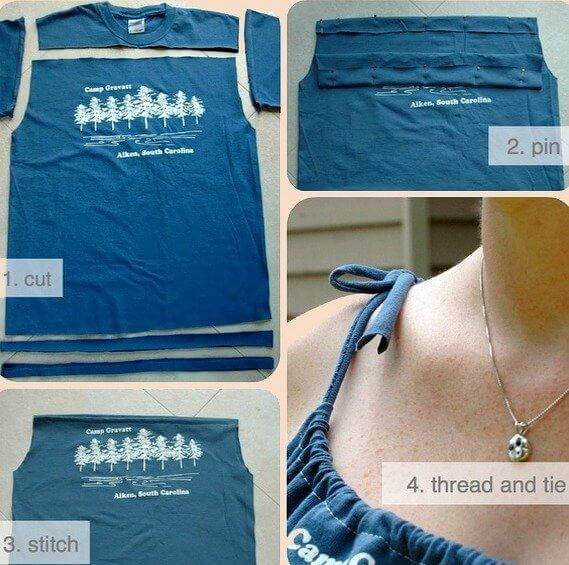 Turning a tee into a tank top can completely change up its look, so much so that it might surprise you. This also works well with both solid colors and printed tees.
Crossover Back Tee for the Gym or Styled It up for a Night Out
This one requires a bit more work than some of the other items on this list, but the results are more than worth it. After you're done, you'll end up with a unique and stylish crossover back tee that's just at home in the gym as it is on a night out. You'll have to make a couple of different cuts and then sew some fabric back on, making sure to leave the neckband in place.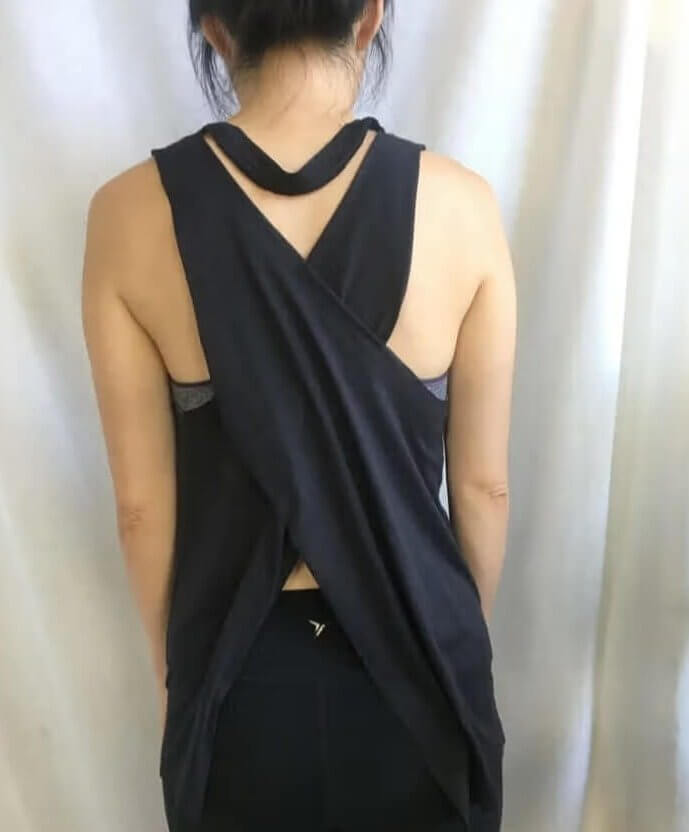 However, when you finish, you should end up with something like the shirt in this photo. This upcycling idea works with both printed and solid-colored tees.
Tying the Bottom Can Completely Change an Old Shirt's Style
This tried and true look works great with plain t-shirts and prints. It also doesn't require that you do any sewing, meaning it's one of the easier hacks on this list. All you need to do is make a cut along the bottom of your shirt and tie up the middle section. It's also really versatile in that you can create a bunch of different looks depending on how much you cut from the bottom.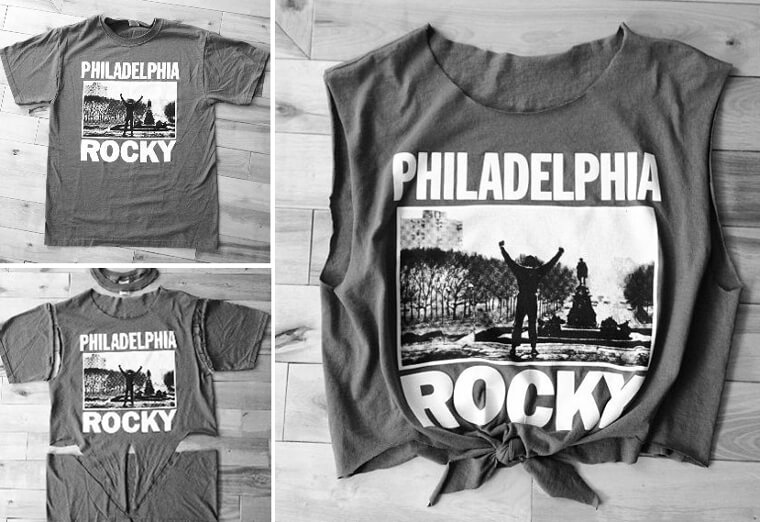 It's a great way to spice up old printed t-shirts and can give your whole look a more chic and fun feel. Bonus points if you use an old band shirt.
Turn Any Shirt Into a Unique Skirt
What better way to upcycle old shirts than by turning them into new skirts for your wardrobe? This one is straightforward, and all you need are a couple of shirts you no longer wear, elastic bands, and measuring tape. Only a little bit of sewing is required. We also recommend ironing the waste of your new skirt before sewing so that you're able to sew evenly throughout the hem.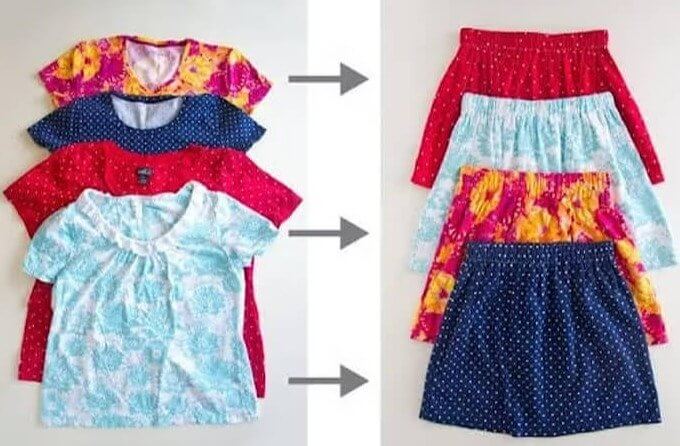 We love this idea because you can turn just about any type of t-shirt into a skirt. Not even prints are off the table, depending on the pattern.
Create a One-Of-A-Kind Rug
There are plenty of great DIY ideas for turning old clothes into home decor. But this one is hands-down one of our favorites. The colorful fabrics often used for shirts are great for creating different patterned and colorful rugs like the one pictured below. All you need to get started are embroidery threads and old t-shirt strands, and you can start putting together a rug similar to the one shown in this photo.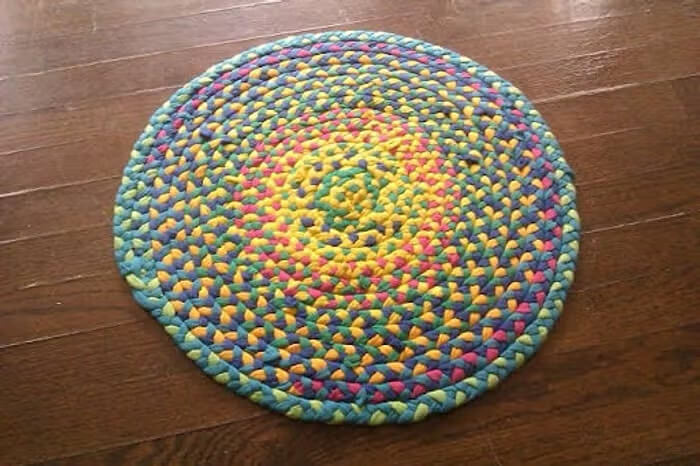 If you're not in need of a new rug, then why not turn your t-shirts into printed or solid-colored pillowcases? Or embroider shirt strands into wall decor? The options are nearly limitless when it comes to home decor.
Craft an Open-Back Look With These Simple Bows
In addition to being great for keeping cool in the warmer months, bow-back shirts make for a trendy addition to just about any wardrobe. To make your own and avoid spending money at a store, get yourself some basic sewing equipment (needle and thread), a pair of scissors, and some chalk. Next, mark out your desired pattern and start cutting. After you finish, you can hem in your bows.
Finally, take some thread and start crafting your bows. It shouldn't take long, and it's sure to turn more heads than a dull solid-colored tee would.
Criss-Cross Cutout V-Neck Gives Old Pieces a New Edge
This idea is actually much easier than it might look in the photo. There's no sewing required, and it's a nice way to turn an old tee into a stylish v-neck that's great for day or night. Just use chalk to mark out your desired patterns and take a pair of scissors to your old shirt. You don't even have to go for the same exact pattern as the one shown in the photo.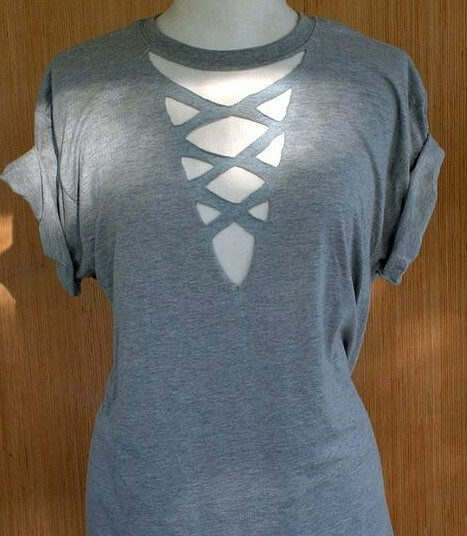 However, you might want to leave the neckband intact unless you're going for more of an open top, which would also be a great look.
Elevate Any Outfit With This Multi-Strand Scarf
It doesn't have to be freezing outside to rock a scarf - at least not this scarf. This DIY is a great way to add texture and layers to your outfits; all you need is an old t-shirt. Just cut some strips out of old shirts and twist and sew them together. You can use the most basic stitch and wrap more strands around any messy areas to cover them while adding more texture, like in the photo below.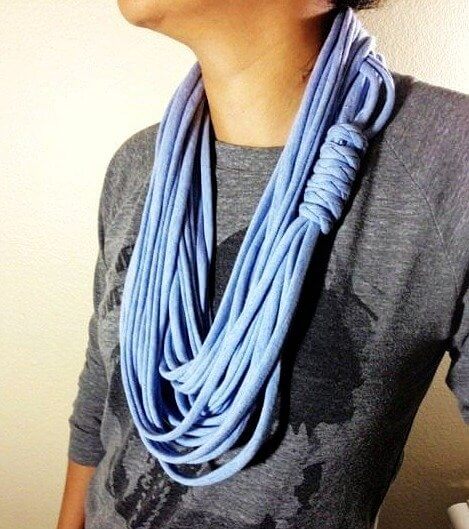 It's a great way to add a chic and unique accessory to an outfit, especially if you go with some earthy tones. You can take things one step further by adding fringe or beads to your layered scarf.
A One-Shouldered Ruffle Top Perfect for a Night Out
This one-shouldered ruffle shirt is great for a night out and is much easier to make than you might think. All you need is an elastic band, a (very) oversized t-shirt, and a little bit of sewing knowledge. It can take as little as a few minutes to put together your ruffled shirt. You must first make specific cuts and leave enough extra fabric on the shirt to later turn into ruffles.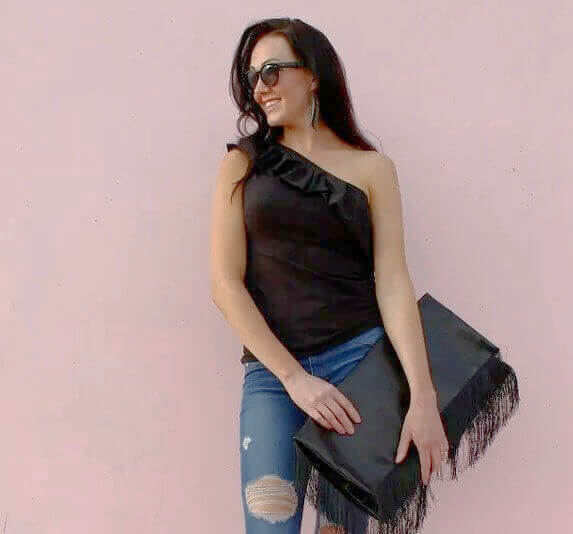 Either way, ruffled shirts are so versatile that you're sure to get plenty of use out of them. At least more so than you would an old shirt you're probably not wearing anymore.
Add Corset-Style Details to the Sides or Back of a Tee
This DIY fashion idea works when you want to spice up a boring tee and when you have a shirt that might be too baggy. You can make your corset-style top and avoid having to spend money by cutting some holes or inserting eyelets in your t-shirt and running a long strand of string-like fabric through them. Make sure to tie everything up at the bottom, and you have a brand-new look.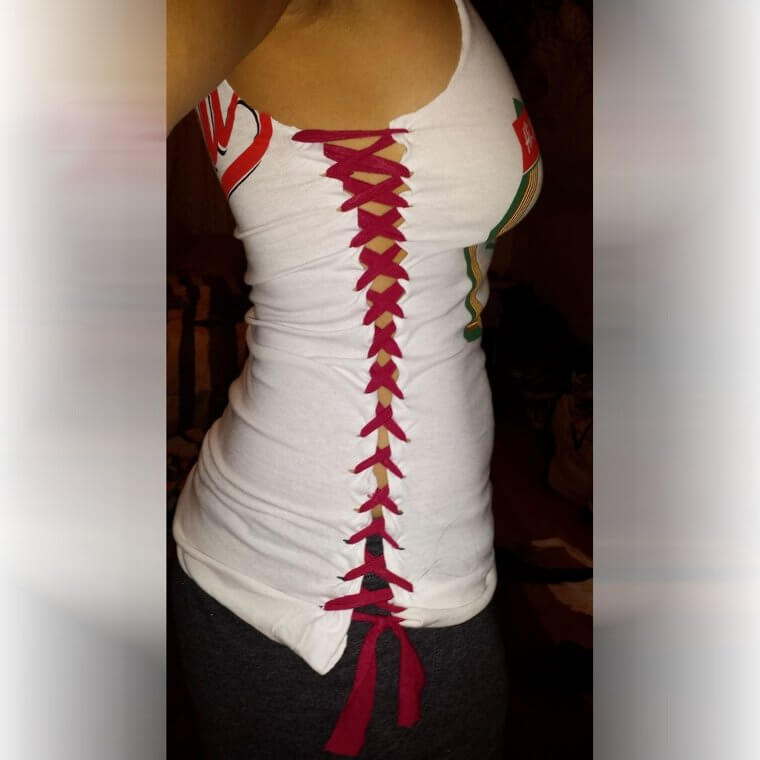 We recommend using store-bought eyelets or hemming up the holes to prevent them from becoming larger over time or stretching out. But then again, it's just an old t-shirt anyway!
Combine Two Shirts Into One Larger, Flowy Top
We're in love with this unique idea for a flowing top. All it takes is two shirts, scissors, and a little sewing know-how. Take a slightly baggy shirt, cut a v-shape along the bottom, and cut off the sleeves. Then, sew your two shirts together, and you've got a completely new look. This is an especially good top for the fall when it might be time to shelf that tank top.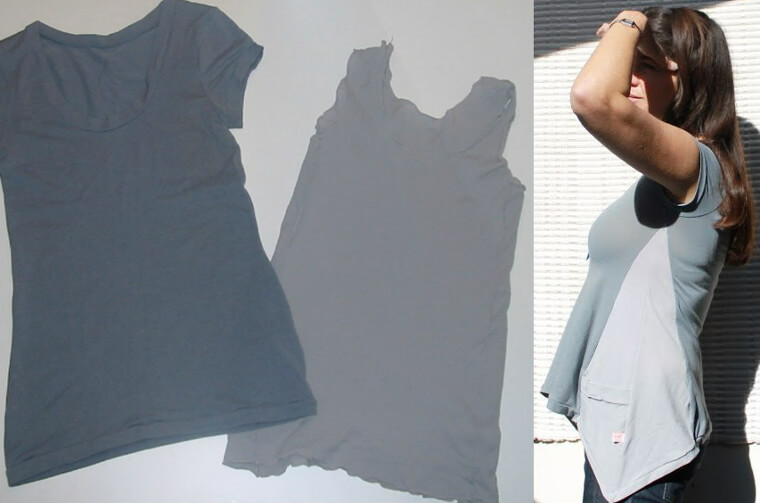 There are also a couple of different ways of going about this idea, and you can pick and choose depending on what kind of flowing top you prefer.
Make Your Own Collar for a Sophisticated Look
Have a shirt that fits well, but think it's a tad boring? If so, then adding your own collar can change things up a bit and add some texture and sophistication to a boring tee. Just take some fabric you like, such as lace, ribbon, or random fabric from another tee, and make a few simple cuts to your shirt. Next, sew on your new collar, and voila, a completely new look.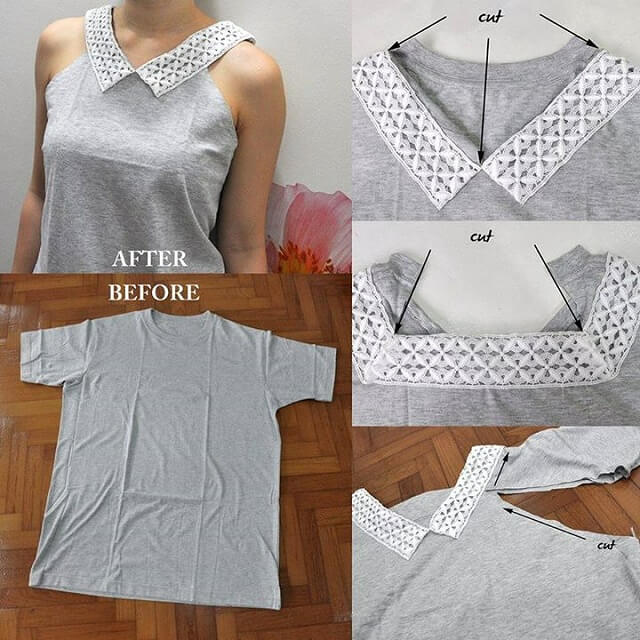 You can take your new-collared shirt out on a dinner date or anything else that calls for something a bit more formal than a simple tee.
Give Your Shirt Some Bow Shoulder Sleeves
This no-sew idea is a fun way to change your look and spice up an old shirt. Make two simple cuts on each sleeve and then tie everything up into lovely bows while carefully applying machine-washable glue, so everything stays in place. You can use just about any type of shirt you want for this idea, but we think this pairs especially well with solid or printed tees.
So, if you're just starting out sewing or don't have the time to learn, this is a great alternative DIY fashion project. It's also an excellent way to recycle old clothes.
Create an Edgy Slashed V-Neck in Just Minutes
Adding a couple, or a lot, of slashes to an old shirt is a great way to give a dull tee a completely new look. There's not much to it, but you will need a couple of supplies to get the slashes just right. A cutting mat and ruler will help ensure your cuts are clean and even, while a rotary cutter will be much easier to work with than a plain knife or box cutter.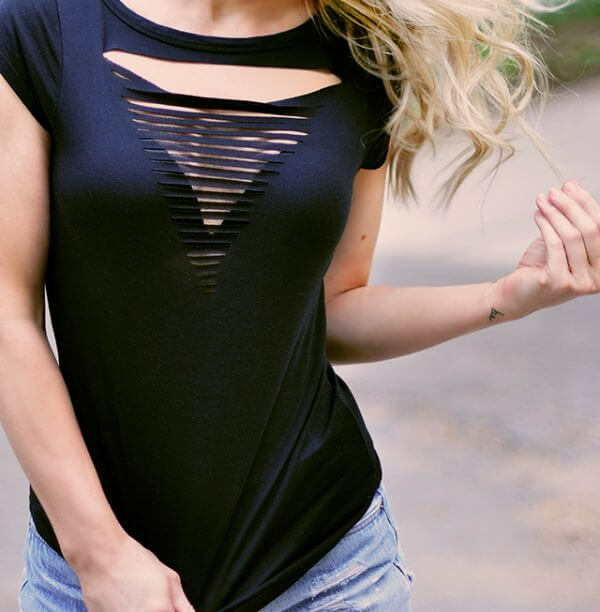 The number and width of your cuts are entirely up to you, so you'll want to figure out beforehand what kind of vibe you want to achieve with the final look.
Craft a Cropped Tank With Ruched Detailing
Crop tops are great for warm summer nights. They're also a lot easier to make than you might've imagined. You need scissors, chalk, measuring tape, lace, a loop-turner, and a tailor's pin. That sounds like a lot but stay with us for a second. First, cut off the top half of your t-shirt — pretty much everything from the bottom of your sleeves up. Use the fabric you just cut off to create straps; with the loop-turner, attach these straps to the top's shoulders and sides, as you see below.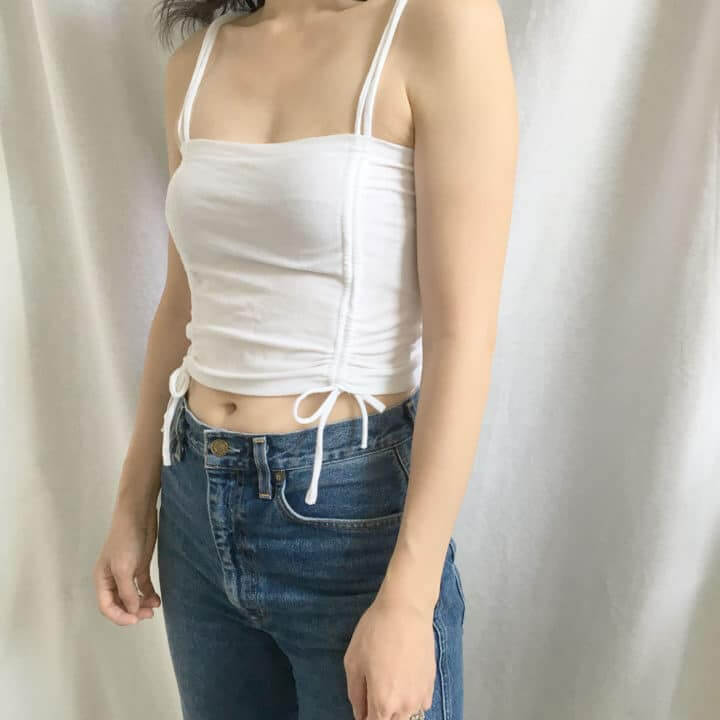 Just make sure that you're taking measurements the entire time so that you're not creating a shorter or longer top than you want. Measuring your straps is crucial.
This Halter Top Transformation Breaths New Life Into Old Pieces
Halter tops are great for many occasions, and they pretty much never go out of style. So, if you've got an old shirt you don't wear anymore or happened to come across a shirt with a cool pattern while thrifting, why not transform it into a halter top? Just take some chalk and draw a couple of lines where you plan to make your cuts. It's best if these are triangular.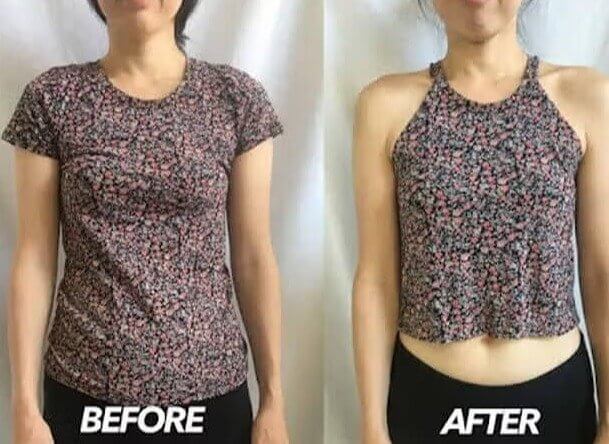 Make your cuts and keep any extra strands for future projects. You can then do some hemming to make sure everything looks as it should. Oh, and don't forget to take some off the bottom too.
Personalize Any Old Tee With a Stencil and Fabric Paint
Stencils are great for transforming old tees and just about anything else you want to spice up. You can go out and buy some stencils, or you can make your own if you have a steady hand. Once you have your stencils, just place some paper, cardboard, or old newspapers around the stencil and apply some paint. Just like that, you have a brand new tee that's no longer a boring single color.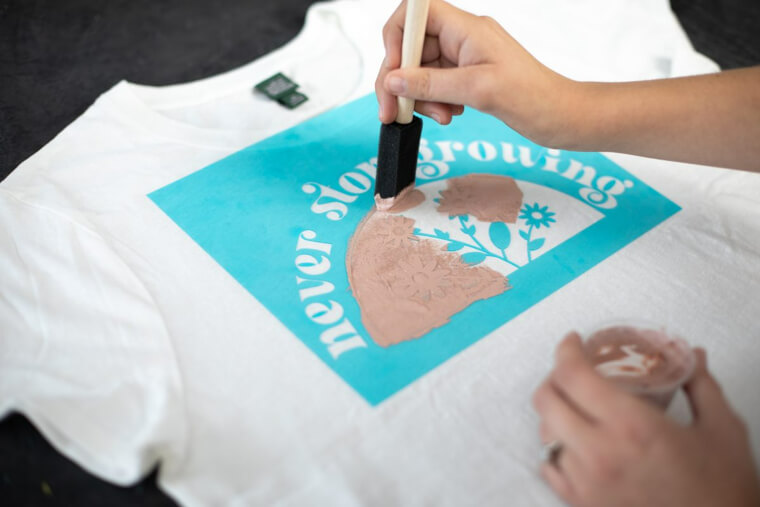 Just make sure you use fabric paint, which shouldn't be too hard to find. A lot of DIY stores sell fabric paint in both spray cans and small paint cans.
Crochet Cozy Slippers From Old Shirt Strands
It doesn't have to be winter to enjoy wearing a nice pair of cozy slippers around the house. Instead of buying a new pair from the store, try sewing your own using yarn made from old shirts. Slippers are fairly easy to crochet as long as you have some yarn, scissors, and a crochet hook. The best part about this idea is that you can create any design or pattern you want.
You could go for a pair of solid-colored slippers or let your imagination run wild and crochet your own patterns. There are also plenty of tutorials out there for walking people through crocheting.
An Open-Side Look That Doesn't Need Sewing
Look no further if you're looking for an easy, machine-less way to convert an old oversized shirt. This top idea doesn't require much work and can completely change a shirt's look. Just cut off the sleeves of an oversized shirt, and you're pretty much good to go — the larger the shirt, the better. And if you want to make it a bit more professional looking, then you can use hemming tape around the sleeves.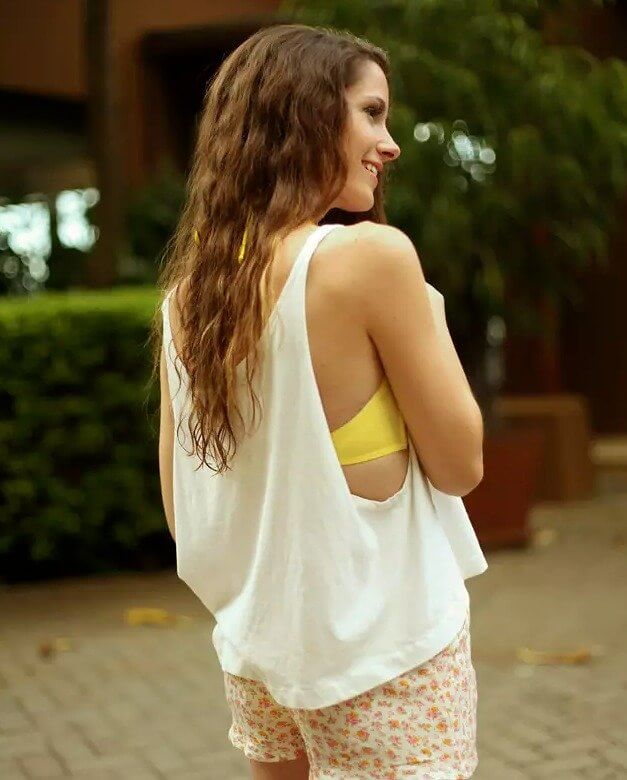 You might also want to trim some of the lengths off the shirt and use hemming tape there as well to give everything a more professional look, but that's completely optional.
Add a Pocket
You might not actually use them, but we think t-shirts with pockets are great. Pockets just add an interesting little touch to what is otherwise a boring wardrobe staple. And you can give your t-shirts some pockets with fabric, scissors, and cardboard. Just use the cardboard to trace your design, cut your fabric, and sew your new pocket to whatever shirt you like.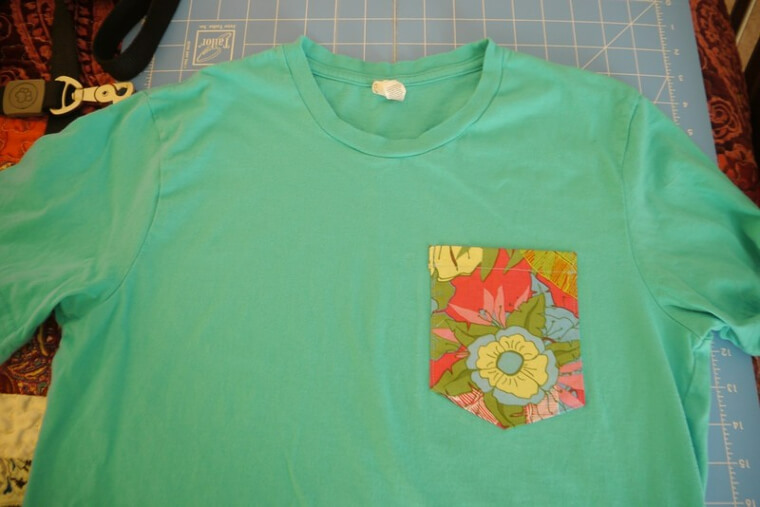 The best part is pockets look perfect at home when you mix and match fabric, so your new pocket doesn't have to match your shirt. In fact, it sometimes looks more interesting when your pocket doesn't match your shirt.
The Possibilities Are Endless if You Turn Old Shirts Into Yarn
A few of the items on this list call for extra fabric, so it's good to keep a variety stored for when you want to take on your next project. And there's a way to recycle old t-shirts into usable balls of yarn instead of going out and buying new yarn. Just use some scissors to cut across any old shirts you might have and trim the seams.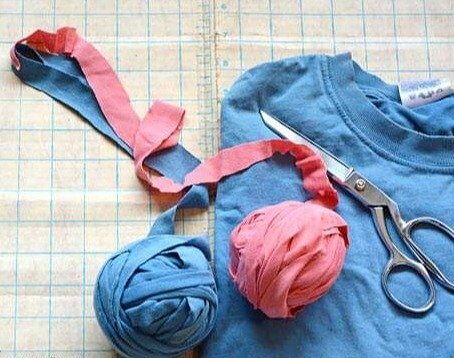 After that's finished, fold your shirts in half and make more diagonal cuts, leaving you with strands you can fold up into little balls of yarn. Just make sure to use a variety of colors.
Use Bleach to Create Your Own Graphic Designs
Bleaching your old tees might sound like a cardinal sin, but it can make for some pretty cool designs. Assuming that you don't just want a splattered look, you'll need some cardboard, bleach, and stencils of whatever patterns you want. Put your cardboard inside your shirt, so the bleach doesn't bleed through to the back of the shirt, then place your stencil down and spray away.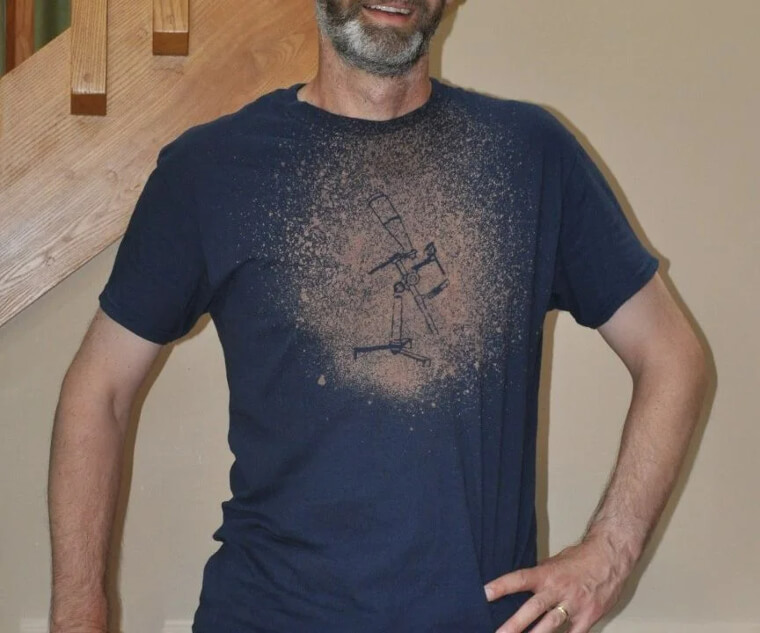 However, just be sure to wash your bleached shirts by themselves after they dry so that you aren't bleaching your other clothes or spreading unwanted bleach spots to your new creations.
Turns Shirts Into Stylish Socks
If you're like most people out there, you probably find yourself running short on socks from time to time. Well, prepare never to worry about countless pairs of lost socks again. There's a really cool way to upcycle old shirts into unique socks. All you really need is a pair of scissors and some elastic strips. Of course, you will have to do a bit of simple sewing to seam everything together.
However, this is a really cool and eco-friendly way to recycle old shirts that would've otherwise probably ended up in a landfill somewhere. It's also a good way to make sure you never run out of socks again.
Add Beads for an Eye-Catching Aesthetic
This lattice and beaded look is a great way to give any bland t-shirts you have lying around more pop. However, you're going to need a couple of supplies, including silver or gold studs and scissors or a rotary cutter. From there, it's just a matter of keeping a steady hand and making your cuts. This look works especially well with oversized v-necks and brightly colored summer shirts. Think beach vibes.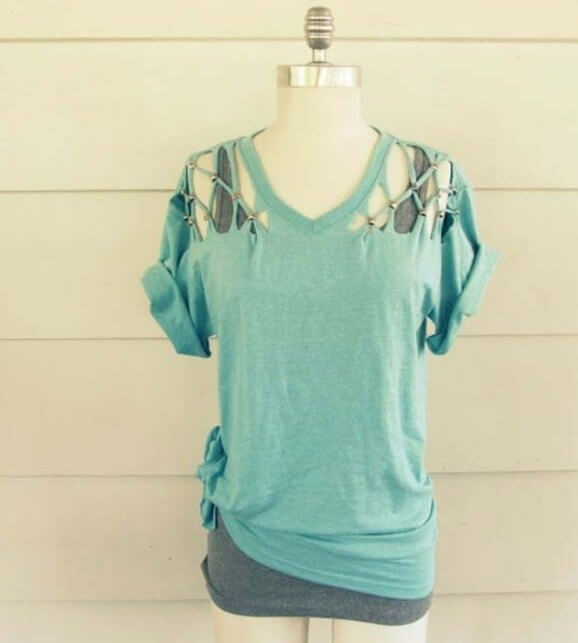 If your shirt is really oversized, then you can just tie one end of the bottom and roll up the leaves a bit for a more put-together look.
Look No Further for Your New Gym Shirt
What's the point of going to the gym if you don't get to show off all those gains every once and a while? So, turn that oversized shirt of yours into your new favorite gym shirt. Just take a pair of scissors and get rid of those sleeves. Make more cuts to open the sleeve, and you're good to go. You can also add an open back for those harder workout sessions.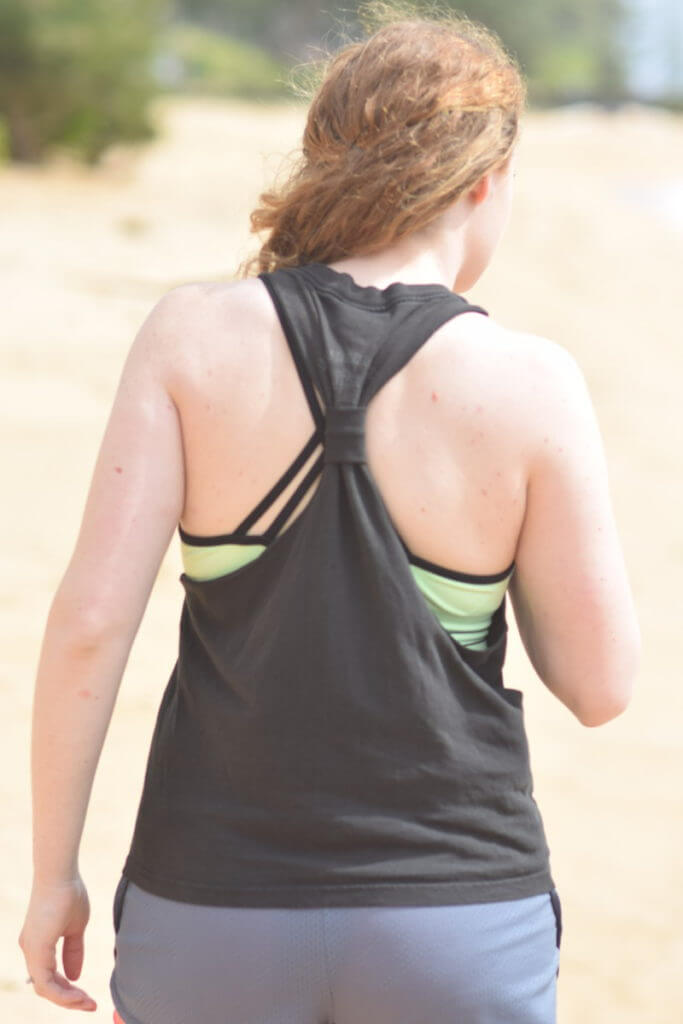 This is a great way to make the most out of your current gym ensemble without actually having to go out and spend a bunch of money on completely new gym clothes.
Here's What to Do if You Love a Shirt's Pattern but Not Its Fit
Have you ever found and bought a second-hand printed tee because you loved the image on the shirt but ended up getting home and not liking the fit? Well, we have a solution. You can cut out the image on your printed tee and sew it onto another shirt with a better fit or color. Of course, this isn't going to work for every print, and you might need to match colors depending on the print's background, but it beats throwing away that new tee.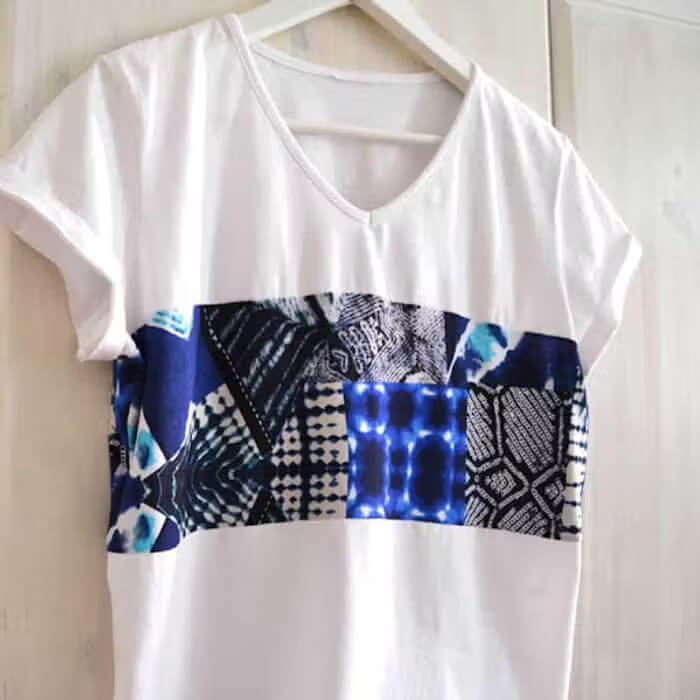 You can also use this idea for more than just prints. You can take patterns and just about anything else and combine them with other shirts in whatever way you want.
Make a Beach Bag
This awesome beach bag idea requires a bit of planning, but the end product is totally worth it. Just take an oversized shirt, cut out a lattice-like pattern (or any pattern you prefer), and you have a new beach bag. You might also want to make slight cuts downwards from the bottom of the sleeves, as these will be your straps, and you want to ensure you have plenty of room.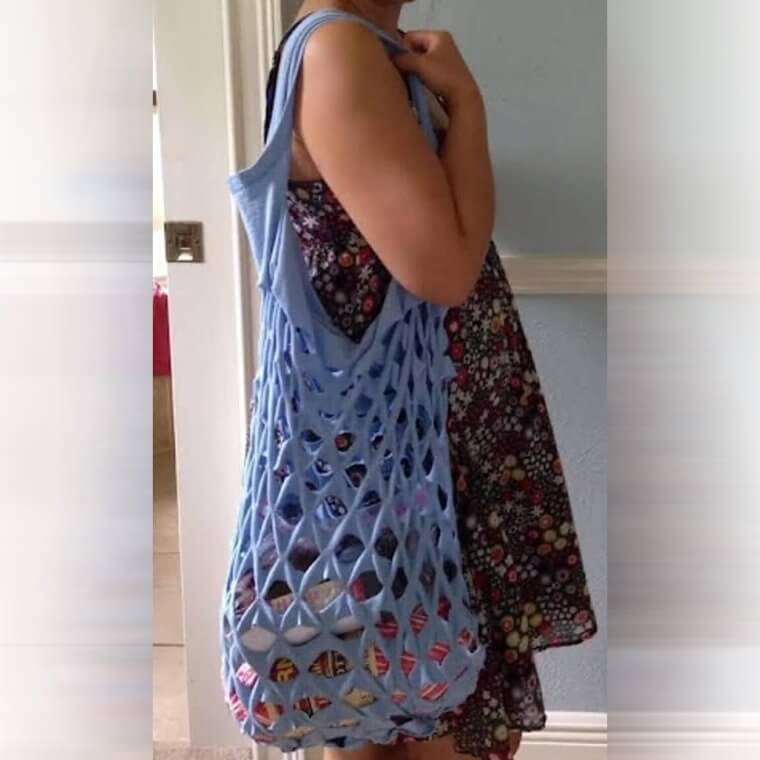 You can also hem the edges so that it looks a tad bit more polished, but that's optional. However, with this one, you might want to use a t-shirt that's a solid color, as you'll be making a lot of cuts.
Revive Old Shirts Using Bling
Adding things like rhinestones and glitter to a shirt can make for some creative DIY fashion ideas. But the best part is this is super simple and easy to do at home. Use chalk to draw out whatever design you want, and use hot glue to attach your rhinestones or glitter. Placing a piece of cardboard inside your shirt to make sure the glue doesn't bleed through is a good idea too.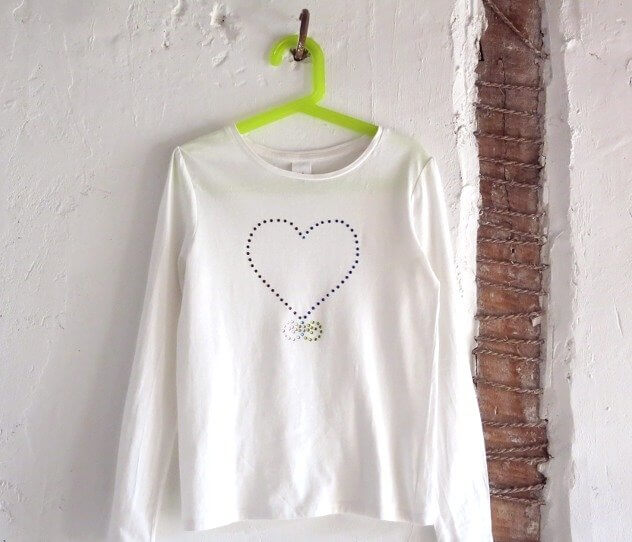 When you're finished, you'll have transformed your old drab tee into a creative work of art that's still casual enough to wear out on a trip around town.
Add Some Color to Your Closet by Tie-Dying Shirts
What would a DIY fashion list be if it didn't mention tie-dyed shirts? And the best thing is tie-dye is really in style at the moment. To get this age-old look, you don't need much. In fact, all you really need is a tie-dye kit and some rubber bands if you want to experiment with different patterns. Oh, and of course, some goggles to make sure you don't get any dye in your eyes.
After you're done, you'll have a new brightly colored shirt that's perfect for days spent on the beach, the lake, or the river — pretty much any place that necessitates relaxation.
Create Your Next Music Festival Look
Whether you're really into science or just looking for a new look for your next festival, this galaxy tee makes for an awesome look. To get this look, you'll need a few supplies. Mainly, you want to get some paint sponges, fabric paint, a toothbrush, glitter, a plate (plastic, of course), and some old newspapers or cardboard to prevent splattering. From there, it's just a matter of letting your imagination run wild.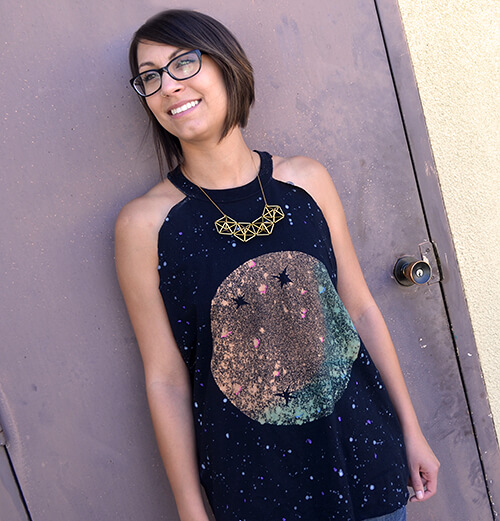 The dreamier you can make your galaxy, the better. Think speckled stars, swirling galaxies, and streaking comets, and you're sure to turn some heads while showing off your space knowledge.